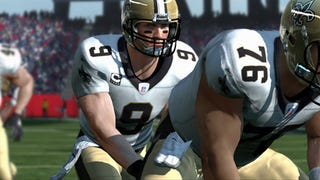 A feature on the NFL Network today discussed "Building the Perfect Quarterback" with EA Sports, and ratings for the top quarterbacks in next year's game were discussed throughout. Super Bowl XLIV quarterbacks Drew Brees and Peyton Manning are overall 99s.
Pasta Padre collated all of the numbers from the broadcast; no big surprises, and of course none of the rookies drafted since Thursday are in the mix. But some names in the news:
Donovan McNabb: Traded to the Washington Redskins, he clocks in at 90.

Ben Roethlisberger: Suspended for at least the first four games of the season, Big Ben's a 91.
Brett Favre: Should the Vikings quarterback decide to return, he's a 92.
Philip Rivers: He went to N.C. State. I went to N.C. State. But Rivers is rated 93 at his job, and I'm not.
See the full list, plus the top ranked QB in six core attributes, at the link below.
Madden 11 Top QB Ratings [Pasta Padre]