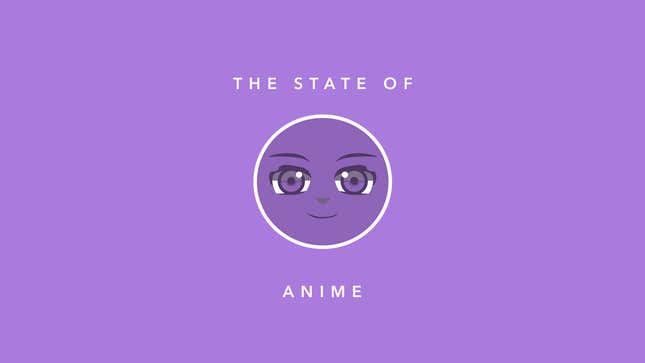 In 2017, anime is being stretched in all directions. With a glut of new live-action anime adaptations, it's being stretched into reality. With the airing of Naruto's 720th (and final) episode, it's stretching into the future. With behemoth streaming channels nabbing up licensing deals, it's stretching into the mainstream. And by moving into the mainstream while continuing to embrace so many of the same tired tropes, it's stretching its audience, too.
These Great Fortnite Creative Maps Show Us What's Possible
The anime industry has ballooned over the last half decade, experiencing boom after boom every year since 2012. This year, we've seen a wealth of anime, but not a lot monumental ones. I write a lot about anime on Kotaku, and each time I do, I see anime fans talking about how much the scene has changed. That's a perennial complaint for any fandom, but the particulars shed light on the state of anime. Now, it's a circus, they say. It's laden down by gimmicks, they say, refusing to innovate beyond what viewership numbers say is appealing to certain audiences. After last year, I lowered my usual "Five anime of the season you should be watching" post to to four shows. Throughout this year, I still often couldn't come up with a fifth.
At the same time, this year we've gotten a handful of captivating titles that have done some cutting-edge stuff. They were few and far between, but the fact remains that throughout 2017, anime studios released some of the most memorable shows and movies I've seen in years.
This is part of our 2017 State Of series, a look at how the major consoles, PC, and other areas of interest are doing this year.
G/O Media may get a commission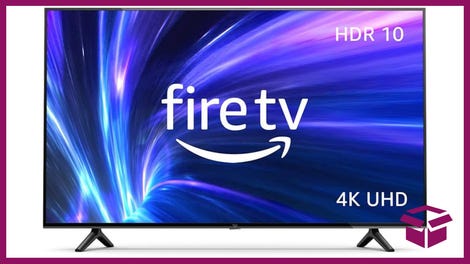 42% Off
Amazon Fire TV 50" 4K Smart TV
Assessing an entire animation form is difficult if not impossible. But after watching most of 2017's anime premieres, I was able to tease out a few notable trends that say a lot about how the world of anime fared in 2017.

The Genres
A steady stream of solid-enough sci-fi, fantasy and slice-of-life anime flowed through the entire year. Fantasy anime had a typically strong year. From the crowd-pleasing Little Witch Academia series, which premiered in the winter, to the second season of Attack on Titan in the spring, to summer's dark fantasy adventure Made in Abyss and fall's Kino's Journey remake, the greatest hits landed squarely in the realm of sword, sorcery, and enormous floating monsters. One-trick gimmick shows didn't quite weigh down the genre as much as they could have, but there was certainly a show about summoning weapons by holding hands and, also, Armed Girl's Machiavellism, which is what it sounds like.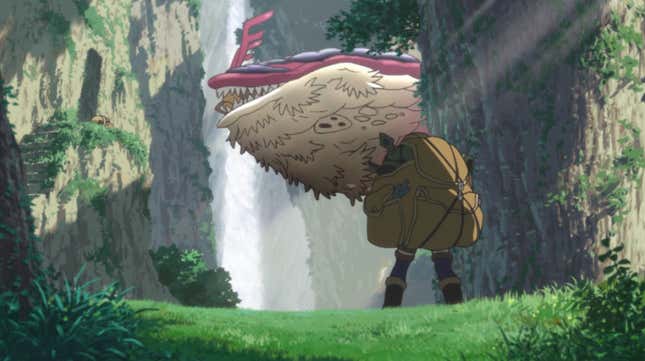 Sadly, shonen faltered in 2017. Where was this year's Samurai Champloo or Hunter x Hunter or One-Punch Man? Naruto's successor Boruto often felt like the only game in town. Shonen titles with lots of hype often had glaring flaws, like the winter's Black Clover, which had strong promise that was swiftly stomped out by its annoying protagonist. Luckily, there were new seasons of old favorites: Gintama, My Hero Academia and Food Wars.
The Styles
Since 2010, anime has subtly changed. Now, lines are generally slightly bolder. Characters' noses have, again generally, disappeared. Anime backgrounds are significantly brighter than they used to be, full of shining special effects, which dazzlingly colorful movies like Your Name took to an extreme.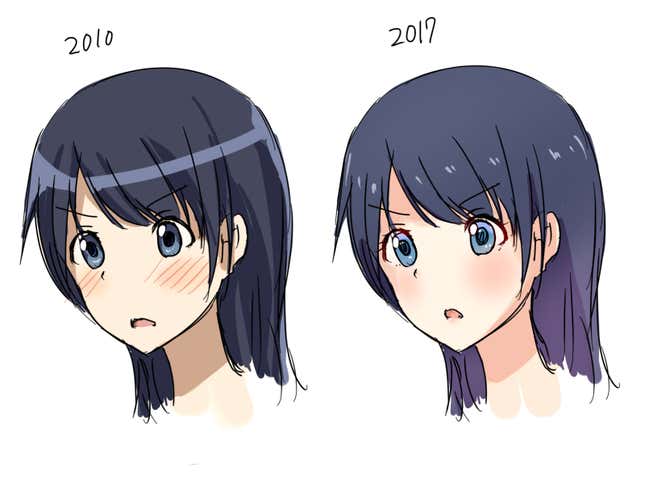 Anime mostly remained 2D. Only one big show went all-in on CGI this year: Land of the Lustrous. After last year's Berserk utterly failed to make CGI cool, Land of the Lustrous, a show about "jewel people," has been widely considered a surprise success.
The Stand-outs
2017 delivered at least two extraordinary shows per season. That's significantly more generous than last year, though last year was not a great year for anime. Scum's Wish was a disturbing anime about lovers who love other people. It was a tender look at the sort of teenage nihilism that only comes from desperately wanting to be loved. Made In Abyss, about cave raiders diving for artifacts in a mysterious pit, is now in my top five anime of all time. The gorgeous, easy-to-watch Re:Creators asked: What if anime was real?. And the saccharine Recovery of an MMO Junkie restored my faith in how women are portrayed in anime.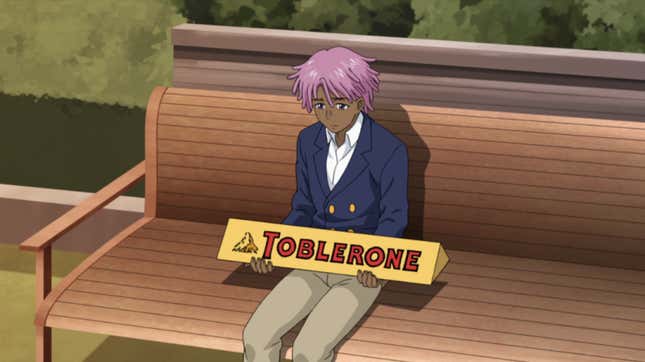 There were some cult hits, too, but nothing as massively appealing as 2016's ice skating anime Yuri!!! on Ice. Miss Kobayashi's Dragon Maid, an anime about a dragon woman who, along with her dragon family, comes to live with an ordinary office worker, proved amazingly popular, to the point that I visited a Dragon Maid maid cafe to try to see if I could get the appeal. Neo Yokio, a star-studded and Western-looking show about being rich in late capitalism, was a conversation piece among anime fans and normies alike for months.
Less talked-about, but certainly worth a watch, were the jazz-inflected spy show Princess Principal, the slice-of-life Sakura Quest and the haunting sci-fi Inuyashiki.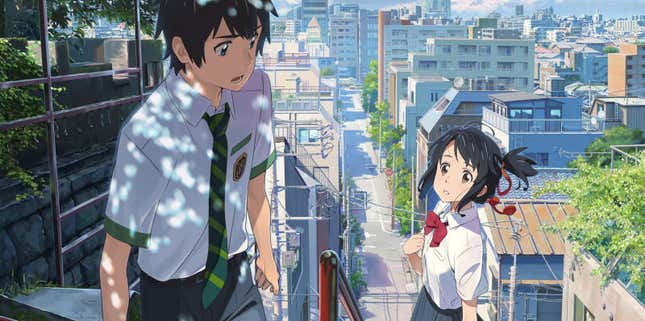 2017 was also a landmark year for anime movies. Stunning slice-of-life anime Your Name became the highest-grossing anime worldwide, earning $355 million at the box office—and it deserved to be. American theaters across the country aired Your Name, making it one of the more accessible anime movies to Westerners in years. The slightly less-publicized A Silent Voice was a sensational, touching movie about bullying that stands toe-to-toe with Your Name. In This Corner of the World was a less-heralded favorite that demonstrated a startling variety of animation styles with its haunting Hiroshima-based plot. A pleasant surprise: the live-action Fullmetal Alchemist movie was actually pretty good. Apparently, so was the JoJo's Bizarre Adventure live-action movie.
The Bummers (and the tropes)
Yes, there were disappointments. Smash hit Attack on Titan's second season was divisive, not generating hype on par with its first. Early episodes fell on tired storytelling devices and confusing pacing. The significantly less recognized serious Dynamic, a shoddy anime about sexy male musicians, was one of the most gloriously crappy anime in recent history.
Live-action anime adaptations have always been greeted with skepticism. 2017's Ghost in the Shell, starring Scarlett Johansson, was a major disappointment among Kotaku staff. Kotaku staff found Death Note mostly likable, but with some glaring flaws. (In 2018, we'll get the Battle Angel Alita, which already is looking pretty sketchy with the protagonist's huge, live-action anime eyes.)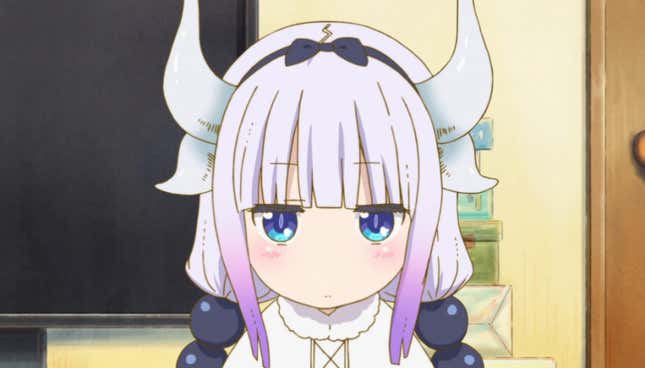 There were some real sinkers this year, as well. According to 2016's anime industry report, adult anime is making a killing over in Japan. A lot of this niche, "late-night" anime makes it way over the the West, where it can be divisive. Did you want to see an anime in which enemies are defeated by stripping them? Well, you have Akiba's Trip. Or did you want to see an anime about being attracted to your kid sister? There's two: Eromanga Sensei and A Sister's All You Need.
2017 was also loaded with tropes and fan service. If you're the kind of person who enjoys shows in which sexualized children are actually 700-year-old dragons, 2017 was a great year in anime for you. If you're the kind of person who loves it when women randomly lose their clothes mid-battle, or after someone sneezes, 2017 was a great year in anime for you. If you're the kind of person who likes when every pair of breasts has their own, specific breast-bouncing sound, 2017 was a great year in anime for you. Everyone has their own views on fan service, of course.
The Streaming Services
Anime viewers now have more watching options than ever. Last year, Crunchyroll and Funimation joined forces, splitting simulcasts between the sub and dub streaming services. Crunchyroll hit 1 million paid subscribers in February, 2017 (as far as I can tell, Funimation has not announced a recent subscriber number, but Sony just acquired a major stake in them). In 2017, Crunchyroll and Funimation are still going strong. Earlier this year, Crunchyroll's parent company Ellation launched VRV ("verve"), which lets fans subscribe to Crunchyroll and Funimation, plus other geek entertainment mainstays like Geek & Sundry and Rooster Teeth. These different services are like "channels" on VRV, which now has over 1.5 million users.
Amazon showed up to the anime party as well. The mega-corporation's Anime Strike, a $5 U.S.-based subscription service on top of a $99-yearly Amazon Prime subscription, nabbed most of my favorite anime this year. It may have gotten some damn good shows, but fans found the service itself hard to love. In my experience, searching for anime on it is a nightmare, since the search bar brings up all of Amazon's products related to the anime in question. Fans feared that Amazon would edge out niche services like Crunchyroll and Funimation, out-bidding its competitors for anime licenses.
Not content to let Amazon have all the fun, Netflix made some big investments in anime this year. Neo Yokio drew lots of attention to Netflix as an anime hub. The show was created by Vampire Weekend's Ezra Koening and starred Jaden Smith, Jason Schwartzmann and Jude Law. Netflix also got a Castlevania anime. In 2018, Netflix is placing a big stack of chips on anime. Netflix's chief content officer Ted Sarandos said in October that they'd be putting $8 billion toward producing 30 new anime series and 80 new films. The service already boasts some of the hottest anime titles, and next year, Netflix will offer famed director Masaaki Yuasa's upcoming series Devilman Crybaby and Nickelodeon producer LeSean Thomas's Cannon Busters.
Twitch even moved into anime streaming this year with days-long marathons. In partnership with services like Crunchyroll, hundreds of viewers watched and commented on shows like Mob Psycho 100, Yuri!!! On Ice and Kemono Friends.
The Culture
It's been said for a decade that anime is "entering the mainstream." That was just anime sinking its roots into Western consciousness with Toonami shows like Dragon Ball and Sailor Moon. Now, we're seeing the fruits of its mass acceptance. Scarlett Johansson starred in a movie based on a cyberpunk anime. Anime aesthetics have bled into fashion, specifically streetwear. In anticipation of the new Blade Runner movie, Cowboy Bebop's director produced a Blade Runner anime. Anime cons across the country are attracting tens of thousands, and in parks around the world, thousands of fans gathered to run like Naruto.
---
2017 may have been a mixed year for anime overall, but there was an anime for everyone. The West's appetite for the medium has never been more voracious. From obscure, trashy simulcasts to Hollywood blockbusters, anime is now offering so many options that it can be overwhelming. Luckily, you'll have Kotaku in 2018 and beyond, guiding you to the good stuff.