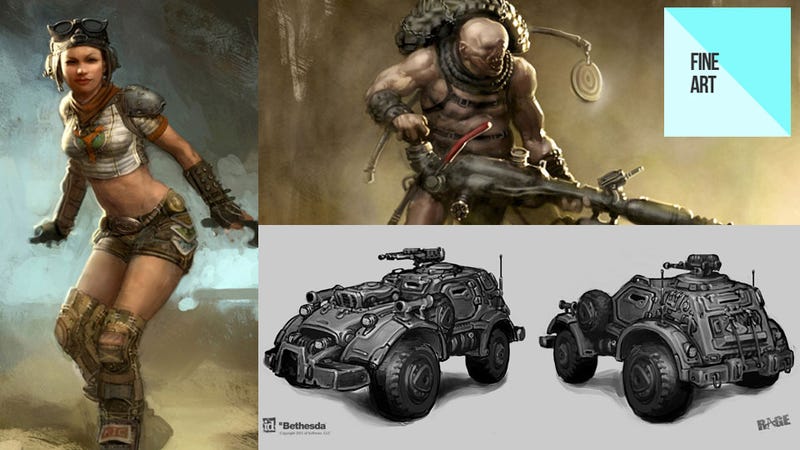 Fine Art
[Fine Art](https://kotaku.com/c/fine-art) is a celebration of the work of video game artists, showcasing the best of both their professional and personal portfolios. If you're in the business and have some art you'd like to share, [get in touch!](mailto:plunkett@kotaku.com)
Today's Fine Art features two men who worked on RAGE, id's recently-released desert shooter. One helped design (and build) the game's cars. The other, the game's mutants.
Both somehow found the time to draw pictures of pretty ladies as well. Which, given the amount of tiny shorts on display in this post-apocalyptic wasteland, shouldn't be too big a surprise!
The car stuff is the work of Joey Struve, who also did a whole load of the game's installations, vehicles and weapons as well (which you can see in the gallery above).
The character pieces, meanwhile, are from Ben Olson, who in addition to working on RAGE has done art for games like Area 51: BlackSite and the cancelled This is Vegas.
To see the larger pics in all their glory (or so you can save them as wallpaper), right-click on the "expand" icon on the main image above and select "open in new tab".
Fine Art is a celebration of the work of video game artists. If you're in the business and have some concept, environment or character art you'd like to share, drop us a line!
---
You can contact Luke Plunkett, the author of this post, at plunkett@kotaku.com. You can also find him on Twitter, Facebook, and lurking around our #tips page.