Death comes for us all, but for iconic movie sneakers it comes a lot quicker.

Currently up for auction on eBay is a single shoe (the left) of one of the pairs of Nike Air Mags used in the production of 1989's Back to the Future II.
Air Mags have been re-released by Nike a few times since, most recently complete with an automatic lacing system, and each time they've sold for thousands. But this isn't a commercial remake, it's actually one of the shoes made specifically for the movie.
And it's dying.
As we've explained previously on sneaker blog Kotaku.com, a lot of the materials used in footwear aren't designed to last. Even supposedly durable outdoor running shoes are affected, but it goes extra for fancy shoes that were designed only for the movies.
The auction—currently pushing past $40,000 for a single shoe—is notable for that insane price, reflective of the importance placed on the object not just by movie buffs, but sneakerheads as well.
G/O Media may get a commission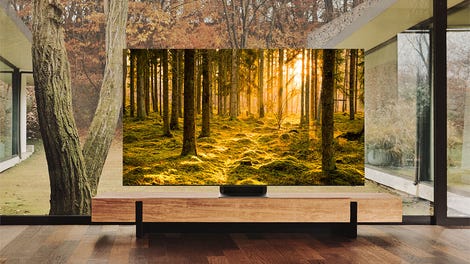 Up to 40% off
Samsung Smart TVs
What's just as interesting, though, is the state of the thing, despite it being kept in a glass display case. While the fabric is holding up OK, the rubber and foam sections of the shoe are rotting away. The back heelcup is so bad that it's just crumbs now, though what's left of them has been kept and stored in containers, and the outsole completely separates from the rest of the shoe if you try and pick it up.

The materials are so poor that the shoe—originally part of a Nike employee's personal collection—cannot be handled without museum-level care, and the eBay auction is for local pickup only (in the Portland area) because the sneaker simply isn't fit for transport.
If you're in the Portland area you can actually go see the shoe in person; it's on display at Index, a local sneaker consignment store, for the rest of the week.
UPDATE July 2 - The shoes have now sold for an astronomical $92,100. They were also featured in this interview with Tiffany Beers, a former Nike designer who worked on the most recent commercial re-release of the Air Mags: