Pirates and musketeers battle card sharks and...Sudoku this week in the once again Virtual Console-less Nintendo download.
This marks the second week in a row that we've seen no classic games added to Nintendo's Virtual Console, but with Guybrush Threepwood making his WiiWare debut in the first episode of Tales of Monkey Island (1,000 WiiWare points) it's certainly not a crippling omission. Once you've exhausted Monkey Island you can find more high adventure in The Three Musketeers: One for All from Legendo Entertainment (900 points), a platforming game featuring Porthos...which technically makes it The One of Three Musketeers. Once your blood pressure has been raised by all of that swashbuckling, relax with HB Arcade Cards (500 points), which brings Rummy, Hearts, Euchre, Canasta, Cribbage and of course Solitaire to WiiWare.
The strong WiiWare line up this week is counterbalanced by the lone DSiWare offering, Sudoku Student (200 DSi points), which is the classic number-crunching puzzle game for beginners.
I guess we've just run out of classic games. Oh well. Check out the official descriptions through the hazy veil of tears.
WiiWare
Tales of Monkey Island: Chapter 1
Publisher: Telltale Games
Players: 1
ESRB Rating: E10+ (Everyone 10 and Older) - Alcohol Reference, Comic Mischief, Mild Language, Mild Suggestive Themes
Price: 1,000 Wii Points™
Description: Join Guybrush Threepwood, Mighty Pirate, in this first chapter of an epic five-part saga, filled with humor, romance and piratey swashbuckling. When a showdown with the demon pirate LeChuck goes up in flames, Guybrush gets marooned on a strange island. How will he escape? Where is Guybrush's beloved wife, Elaine? And what's up with the voodoo pox spreading through the isles? Jump into Tales of Monkey Island today to find out!
G/O Media may get a commission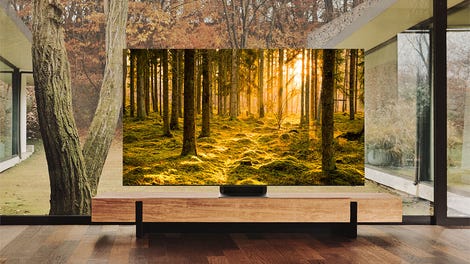 Up to 40% off
Samsung Smart TVs
The Three Musketeers: One for All!
Publisher: Legendo Entertainment
Players: 1
ESRB Rating: E (Everyone) - Cartoon Violence
Price: 900 Wii Points
Description: The Three Musketeers have been imprisoned by the treacherous Count Xavier and his sinister lieutenant, Count Orsini! Well, almost - take on the role of Porthos, famed member of the Musketeers, to save the day in this swashbuckling platform adventure inspired by the classic novel. Swing the Wii Remote™ to launch blistering sword attacks on your foes, avoid fiendish traps and discover hidden collectables. Packed with frenetic fencing, heroic leaps and fun puzzles, this is one adventure no aspiring hero will want to miss.
HB Arcade Cards
Publisher: HB Studios Multimedia
Players: 1
ESRB Rating: E (Everyone)
Price: 500 Wii Points
Description: HB Arcade Cards is a great collection of fun and easy-to-play card games. The collection of games included in this title includes: Rummy, Hearts, Euchre, Canasta, Cribbage and the always-classic Solitaire. Each game comes with an interactive tutorial to show you the rules and basic game play. You'll need to be clever to outsmart your opponents, and you can even team up with a computer partner to play Euchre and Cribbage. You can play HB Arcade Cards using a Mii™ character from your Wii™ console, or play with one of our four new characters. HB Arcade Cards has lots of style and flare, and will keep you coming back for more. Remember, it's never the same game twice.
Nintendo DSiWare
Sudoku Student
Publisher: Hudson Entertainment
Players: 1
ESRB Rating: E (Everyone)
Price: 200 Nintendo DSi Points™
Description: Sudoku Student brings you the first Nintendo DSiWare sudoku experience with all the features you'd expect. For "students" of sudoku who are just getting their feet wet, Sudoku Student comes with a full tutorial. Once you've completed the tutorial, jump into simple and easy-going sudoku puzzles. Designed for entry- to beginner-level players, you'll find just the right amount of challenge to keep you hooked.