The next Elder Scrolls game, Skyrim, will be making some big changes to the way the series handles things like combat and levelling-up.
Firstly, combat: according to a piece in the latest issue of Game Informer, you can now dual-wield weapons in the game. To many it will sound like a cheap take on a Halo/Modern Warfare staple, but where in those shooters it's a part-time indulgence, in Skyrim it forms the cornerstone of your approach to the game, as you can allocate which weapon or tool goes in which hand.
So, for example, you can put a sword in one hand and a dagger in the other. Or two daggers. Or a staff and a shield. Or a shield and a mace. For magic users, a different spell can be cast from each hand, or for a multiplying effect, the same spell can be thrown from both hands.
Another change to the way Skyrim plays compared to its predecessor, Oblivion, is in how you gain new powers and abilities. This game does entirely away with the concept of class creation, Bethesda's thinking being it's a bit naff asking people to predict how they're going to play a game when they haven't played it yet.
Replacing this, then, is an organic system of attribute growth based on use: the more you do something, the better you get at it. While this has long been a staple of RPG games, even dating back to the Quest for Glory series, but in Skyrim it's not just complementing a class structure, it's replacing it. So you won't be cast in stone as a mage if you use lots of magic, you'll just be some adventurer with a higher magic number in their stats.
G/O Media may get a commission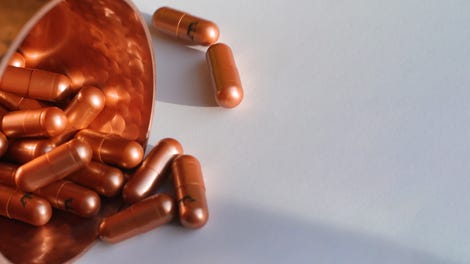 health
The Lyma Supplement
You level up according to how you progress your most-used skills. "Raising one skill from 34 to 35 is going to level you faster than raising one from 11 to 12", Bethesda's Todd Howard tells Game Informer. If you stick to what you like/do best, you'll level up quickly. Conversely, if you want to take things slowly, you can raise all or most of your skills, as not focusing on one or two in particular will mean a slower rise through the levels.
One wildly unpopular aspect of Oblivion was the fact basic enemies levelled up alongside you, meaning even the most powerful warriors could sometimes be undone by sewer rats or angry crabs. In Skyrim, though, your opponent's levelling is more like that found in Fallout 3.
Continuing Bethesda's work with Fallout 3, each new level you gain in Skyrim will also give you a perk, which you can apply to give you added bonuses relative to how you want to play the game.
The levelling sounds like an interesting experiment, one I like the sounds of since I always hate choosing an "archetype" in a game before I know how I'm going to play it. The combat also sounds like a welcome piece of customisation for the series, but how well they actually work in the game, we'll just have to wait until we get some time with it!