A new set of amiibos went on sale yesterday at GameStop, and it was a disaster. They're already sold out. One day later, Nintendo's acting as though nothing happened, and fans are pissed off.
The GIF above comes courtesy of /r/amiibo, home to one of the highest concentrations of dedicated amiibo hunter and gatherers. Most of the threads are people grumbling at Nintendo.
To recap, GameStop was the first retailer to start taking order for the next "wave" of amiibos, and one figure, Ness from Earthbound, was exclusive to GameStop. Throngs of people were physically waiting in line at stores, while others patiently refreshed GameStop's website.
Not only did GameStop's website go down while pre-orders sold out, but real-life stores weren't able to process customers for nearly an hour. Amiibo demand basically crashed GameStop.
G/O Media may get a commission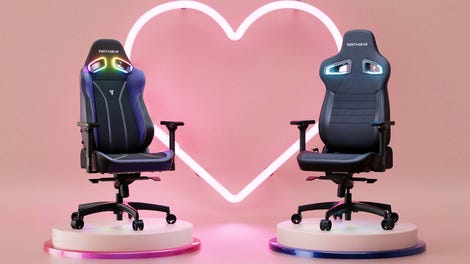 Up to $150 off
Vertagear Gaming Chairs
Nintendo's response? Simply Retweeting GameStop's official statement on Twitter. That's it.
A random GameStop employee even took time to personally apologize for what happened.
The reason there's such demand, however, is because there isn't much supply. You can't walk into a store and buy whatever amiibo you please, as if you're buying one of Nintendo's games.
This all reached a fever pitch when Nintendo of America decided to ask fans what amiibo they were hoping to receive during the upcoming Easter holiday, which lands on Sunday.
The response to Nintendo's tweet was not kind.

Nintendo's historically been a company that's constrained supply to create hype around its products. Remember how long it was before the Wii was readily available? So while this isn't new for the company, their approach continues to give me pause.
The disconnect is what bothers me, and this comes from someone who has zero intention of personally buying an amiibo anytime soon. (I'll admit the yarn version of Yoshi is pretty cute.)
Nintendo's tweet underscores the company's forward-facing approach to everything about amiibos, since this all took off. Fans know how difficult it is to buy the amiibos they want, but Nintendo acts like it's business as usual. No apologies, no acknowledgement of the frenzy.
I'm not suggesting Nintendo has to make sure everyone gets Ness, but something as simple as "Hey, sorry, we weren't able to make enough—more are coming. Thanks!" That'd go a long way.
It feels weird, and Nintendo's guilty of this in other instances pretty recently, too. Remember what it was like to track down (or not track down) a Majora's Mask version of the New 3DS? In both cases, a little honesty might have tempered the disappointment of Nintendo's most loyal.
That's probably good advice.
You can reach the author of this post at patrick.klepek@kotaku.com or on Twitter at @patrickklepek.