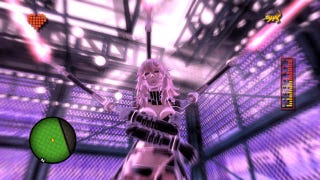 There's another version of the original No More Heroes coming to the PlayStation 3, but this one's for Japan only and only for adults. No more toning down the graphic violence of Travis Touchdown in No More Heroes: Red Zone.
As previously reported, Grasshopper Manufacture's No More Heroes is being given another shot on the PS3 in Japan. They've already released No More Heroes: Heroes' Paradise there, but this time there will be new missions, a new boss battle mode and a few cameos from No More Heroes 2, according to Andriasang.
And like the North American PS3 release, it'll feature PlayStation Move support.
No More Heroes: Red Zone will also sport the 18-and-up Z rating, perhaps in part for its new downloadable "Forbidden View Mode," which appears to be little more than an option to ogle the scantily clad women of No More Heroes. (As Andriasang notes, the Xbox 360 release of No More Heroes: Heroes' Paradise was Z-rated too.)
First Look: No More Heroes Red Zone [Andriasang]