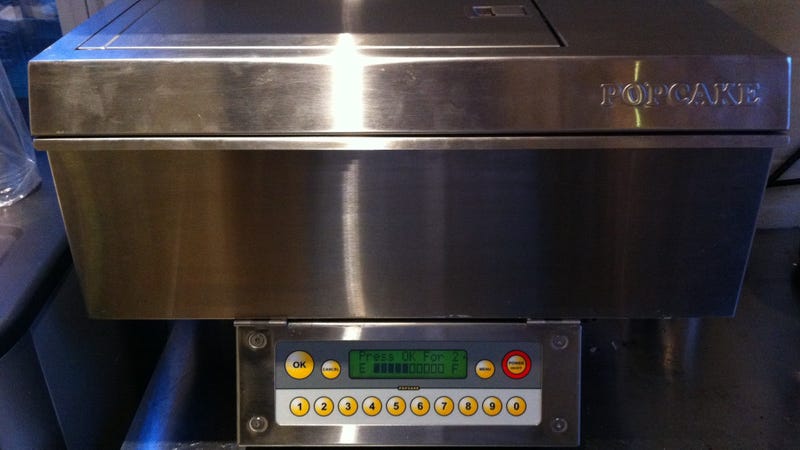 Gawker's House of Pancakes | I took Monday and Tuesday off. When I returned to the office today I discovered a large-ish metal box crouching on a counter in the Gawker communal kitchen. Push a button and the square hunk of tech plops out pancakes on demand. Great idea, but wouldn't it be better if it could walk over to your desk, squat and drop the steaming cakes directly onto your plate?
---
Angry Birds has its own board game, plushies, cookbook and even a knock-off attraction in a Chinese theme park, but now the massively popular mobile game is getting an official line of playground equipment and parks.
Two Finnish towns, Rovaniemi and Espoo, will be getting the world's first... More »
---
In Manhattan's Greenwich Village neighborhood sits Alamo, a giant cube sculpture by Tony Rosenthal which dates back to 1967. The artwork, a.ka. the Cube, lives not far from New York University, The New School, and few other landmarks. More »
---
Two guys named Tom who were trying row a boat called the PS Vita across the Atlantic Ocean as part of a month-long race were rescued today after their boat sank eight days into their journey.
Tom Sauer and Tom Fancett blogged today-yes, they blogged today-that they floated in a lifeboat... More »
---
I've seen orangutans play video games on a touch screen, but this is the first lizard. And this Bearded Dragon doesn't need opposable thumbs to master the art of gaming, he uses his tongue.
[Via Reddit] More »
---
EA isn't just making a 2013 Command & Conquer game under the BioWare umbrella. They're making a free game, an "all new free-to-play MMO strategy game" called Command & Conquer Tiberium Alliances according to a press release today.
The game will be playable in browsers and on mobile platforms. More »
---
Once upon a time, there was a PS3 exclusive called Sorcery. It looked like the kind of high-definition motion-control game that would pull in gamers skeptical of what Sony's Move controller could do. More »
---
One of my favorite things about the holidays is seeing all of the creative ways video game developers and publishers find to celebrate.
The many holiday cards we receive each year, are a great example of that.
Take, for instance, this fantastic Borderlands 2 card I received yesterday from 2K Games... More »
---
I have a friend, whose name is Mark Sorrell, who yesterday posted this column. It's probably worth going and reading that first, or none of the rest of this will make sense.
That column triggered a bunch of discussion, part of which was a reddit thread, and part of that thread was this comment from... More »
---
Games like Battlefield and Call of Duty are worst when they are played by casual fans, people who may enjoy the occasional match but who don't take the time to daily hone their skills.
I fit neatly into that category. More »
---
People who I've spoken to at Rockstar Games have hinted to me that the multiplayer mode in Max Payne 3 is going to be something special. According to IGN impressions of the March 2012 game's competitive multiplayer, these people hinted the truth.
The point of reference IGN uses for Max Payne 3's... More »
---
This replica N7 pistol from upcoming Bioware game Mass Effect 3 was created for the Child's Play Charity auction by reader Bill Doran.
Doran, who makes custom weapon props and customs, says he based the replica on a single reference image he found and then worked with the M5 Phalanx as a jumping... More »
---
We like tips!
Got tips for our editors? Want to show the world your latest creation? Ready to anonymously share an unannounced game? Email us at tips@kotaku.com. Or leave us an anonymous voicemail at (612) 568-2581.
Want a different layout?
Click here for the Speak Up or Tips forums. Want a more "blog-like" look? Click the button up top next to "Top Stories."
Get more Kotaku!
Want even more Kotaku? Want to know which of your friends read us? "Like" us on Facebook and follow us on Twitter.