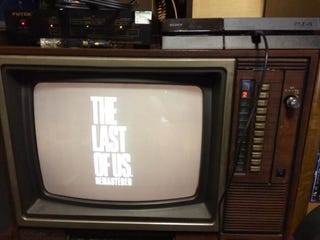 That HD remaster of The Last of Us sure looks great on a hi-def television. But on a standard TV, it looks downright spooky.
Twitter user Kamirenko connected a PlayStation 4 to a cathode ray tube TV via an HDMI adapter. While the resulting picture certainly isn't anywhere as good as you'd get on a regular HD television, it certainly does fit the game's dystopian mood, no?
In you are interested in connecting your PS4 to an old school TV, here's a good explainer via YouTuber David Proehl.
とうとう我が家にps4が来たぞ! [Kamirenko@Twitter]
ps4超高画質... [Kamirenko@Twitter]
超古いブラウン管テレビとPS4をHDMIで繋げた猛者登場!雰囲気出すぎwwwwww [はちま起稿]
Kotaku East is your slice of Asian internet culture, bringing you the latest talking points from Japan, Korea, China and beyond. Tune in every morning from 4am to 8am.
To contact the author of this post, write to bashcraftATkotaku.com or find him on Twitter @Brian_Ashcraft.