It's been an amazing year for the iPhone and gaming.
Not only have a slew of new, blockbuster titles come out for the emerging platform, Apple finally realized that maybe they should wake up and start touting the gaming benefits of their smartphone and media player.
This is by no means all of the iPhone and iPod Touch games we reviewed this year, but it's a quick look at some of the more memorable ones. Don't forget, just because they're download only, doesn't mean you can't present a list with the iTunes card you give someone.
Any we missed? Any you would suggest for a friend?
Asphalt 5


Price: $6.99
Rating: N/A
Genre: Racing
Subject Matter: Gameloft brings Burnout's adrenaline-amping crashes and Ridge Racer's wind-in-your-hair thrills to the iPhone with Asphalt 5.
Value: A strong competitor to the PSP's racing games, Asphalt 5 offers three modes-quick race, career, local and online multi-player, 33 cars, 12 tracks, vehicle customization, and unlockable stat-boosting babes.
Buy it for: Gamers ready to go vroom.
Read the Full Review
G/O Media may get a commission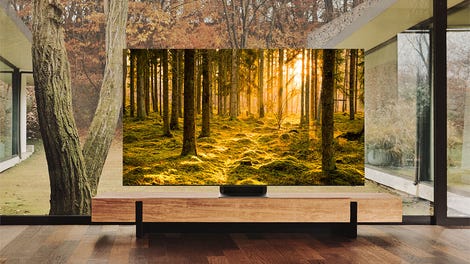 Up to 40% off
Samsung Smart TVs
Command & Conquer: Red Alert


Price: $9.99
Rating: N/A
Genre: Real Time Strategy
Subject Matter: EA brings its over-the-top real-time strategy series to the iPhone, allowing on-the-go gamers to wage war wherever they please.
Value: While things like C&C's cheesy cinematics didn't make the leap to the iPhone, the platform's touch screen display is ideal for RTS style gaming.
Buy it for: RTS players looking for a mobile strategy game.
Read the Full Review
Doom Resurrection


Price: $6.99
Rating: N/A
Genre: First-person touchscreen shooter
Subject Matter: Loosely based on Doom 3, Resurrection is an impressive port of the demonic sci-fi FPS that's easily controlled with the iPhone's accelerometer.
Value: As iPhone games go, Doom Resurrection is priced almost right, offering a solid campaign, but not much more.
Buy it for: budding space marines who enjoy killing hellspawn between phone calls.
Read the Full Review
Dungeon Hunter


Price: $6.99
Rating: 9+
Genre: Diablo-esque action.
Subject Matter: Dungeon Hunter has gamers play as a fallen prince back from the dead to save the kingdom from his evil wife. Plenty of dungeon crawling, loot gathering and virtual button-mashing in this game.
Value: A single play-through of the game can take 25 hours, and there are three character classes to play with. This is probably the best value you'll find on the iPhone or iPod Touch.
Buy it for: fans of adventure games like Diablo and light role-playing titles.
Read the Full Review
Madden NFL
Price: $9.99
Genre: Sports
Subject Matter: EA Sports delivers its bestselling Madden franchise to the iPhone for the first time.
Value: Fully licensed, with all of the teams, players and game modes from the console version of the definitive NFL video game title.
Buy it for: A great stocking stuffer for any football fan with an iPhone or iPod Touch.
Read the Full Review
Metal Gear Solid Touch


Price: $0.99 to $9.99
Rating: N/A
Genre: Third-person touchscreen shooter
Subject Matter: Metal Gear Solid Touch brings 20 stages lifted from Metal Gear Solid 4 but focuses more on arcade-style touchscreen shooting than the stealth gameplay that Solid Snake is famous for.
Value: Depending on how much you pay (the game was marked down to 99 cents recently) MGS Touch offers a decent amount of replayability and cool items to unlock.
Buy it for: the serious as a heart attack Metal Gear fan who doesn't have access to a PlayStation.
Read the Full Review
NBA Live
Price: $9.99
Genre: Sports
Subject Matter: The NBA goes mobile in EA Sports' first port of its popular pro basketball simulation.
Value: All teams, all players, plus season, playoffs, and pick-up-and-play modes, with customizable rosters.
Buy it for: Any hoophead with a gadget fixation will love having a full basketball sim in his or her pocket.
Read the Full Review
Resident Evil 4 Mobile Edition


Price: $6.99
Rating: 9+
Genre: Shooter
Subject Matter: Resident Evil 4 Mobile Edition is a screen-tapping, stop-and-pop, suspense shooter.
Value: With a dozen settings and two dozen timed stages, this iPhone title is worth the money.
Buy it for: Resident Evil fans, shooter fans, anyone interested in gaming on their phone or Touch.
Read the Full Review
Rock Band


Price: $9.99
Rating: N/A
Genre: Music
Subject Matter: It's Rock Band. It's on the iPhone. Yeah!
Value: Packed with 20 tracks, Rock Band has a set list that boasts the likes of Foo Fighters, the Pixies and Joan Jett. Players can jam on all four instruments. Multiplayer supports up to four.
Buy it for: Music game lovers on the go.
Read the Full Review
Rolando 2


Price: $4.99
Rating: 4+
Genre: A charming side-scrolling puzzler.
Subject Matter: This sequel to last-year's must-have iPhone game, Rolando 2 introduces more story, character development and challenges.
Value: This is the first time Luke has ever played an iPhone that felt truly substantial.
Buy it for: fans of LocoRoco, Rolando or cute, cleverly-crafted puzzle games..
Read the Full Review
Space Invaders Infinity Gene


Price: $4.99
Rating: 4+
Genre: Shoot em up
Subject Matter: Space Invaders Infinity Gene is a re-imagining of 70s classic arcade game Space Invaders.
Value: One of the most played games on my iPhone, Space Invaders Infinity Gene offers you 19 levels with a number of interesting new weapons. But almost more importantly, the game can create levels on the fly designed around music played from your iPhone or iPod Touch's music library.
Buy it for: fans of Space Invaders, fans of shoot-em ups, fans of fun.
Read the Full Review
Star Defense

Price: $.99
Rating: 9+
Genre: Tower defense
Subject Matter: Defend a planet outpost from an amazingly orderly bunch of aliens walking there way along the paths that lead from landing port to your base.
Value: It's just a buck, and it's a ton of fun.
Buy it for: Fans of tower defense and globes.
Read the Full Review
Streets of Rage


Price: $4.99
Rating: 12+
Genre: Genesis brawling side-scroller
Subject Matter: This is a straight-up emulation of the Sega classic for the Genesis with chop-socky music and over-the-top tiny graphics.
Value: Not much of a deal here even at $5. It's a straight, troubled port.
Buy it for: With a bad framerate and problematic controls, only hardcore fans of the game and nostalgia freaks should get this.
Read the Full Review
Waterways


Price: $.99
Rating: 4+
Genre: Puzzler
Subject Matter: Winner of the 2008 Japan GameGam Competition, Waterways is a puzzle game with cows, ducks and water.
Value: For a penny shy of a dollar you can't go wrong with this portable game.
Buy it for: Puzzle enthusiasts who want a some brain teasing on the go.
Read the Full Review
Zenonia


Price: $2.99
Rating: 9+
Genre: Adventure role-playing game.
Subject Matter: Zenonia follows a young man named Regret as he searches for answers to the mystery surrounding his birth after the sudden death of the man who raised him.
Value:With about 20 hours worth of play and the ability to choose good and evil paths, this is a no brainer.
Buy it for: fans of The Legend of Zelda.
Read the Full Review