Last year featured Paul McCartney, Ringo Starr, Tony Hawk and Stephen Spielberg. This year there will be Cirque du Soleil and perhaps others.
Each year in the days leading up to E3's international gathering of video game makers and publishers in Los Angeles, Microsoft, Sony and Nintendo host press briefings to lay out the year's upcoming games. But over the past two years Microsoft has transformed their Xbox 360 themed event into a spectacle, a video game variety show that at times entertains more than it informs.
Aaron Greenberg, executive producer of Microsoft's annual E3 media briefing, said that leading up to last year's show, Microsoft did a lot of thinking about how to redesign their approach to the show.
"We know that gaming is now one of the largest forms of entertainment, yet when we have the world watching us on TV we were spending way too much time talking and bragging about sales charts and attach rates," he said. "It made us look second class to the type of productions that other entertainment industries were putting on. When you watch the Grammys for example, they delight a wide variety of viewers by going from one entertaining moment to another, leveraging all the different experiences and genres. Our motivation for our briefing last year was the same, focus on high entertainment value, more show – less talk , deliver unexpected surprises, showcase our unique variety of experiences and all in a way that looks as good in the living room as it does in person."
G/O Media may get a commission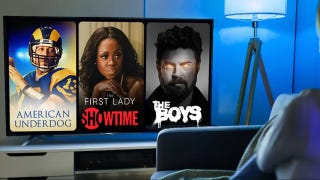 UNDER $1
99¢ Prime Video Channels
So last year, while Microsoft unveiled plenty of new games, they also wowed the audience with a line-up of celebrities. Tony Hawk took the stage to talk about his upcoming skateboarding game. Steven Spielberg walked out to talk to the audience about Microsoft's upcoming motion controller Project Natal. And then there were The Beatles.
The band's Paul McCartney and Ringo Starr, as well as Yoko Ono and Olivia Harrison, the wives of the late John Lennon and George Harrison, all took to the stage to revel in the launch of the upcoming Rock Band Beatles game.
"I still remember watching the reactions of the audience when Paul McCartney and Ringo Star took the stage to talk about The Beatles: Rock Band game, I think it says a lot that here we are still talking about this a year later," Greenberg said.
But the duo, microphones in hand, audience waiting, didn't sing, instead they talked.
"I would've loved to see The Beatles perform as much as the rest of the world, but with just two original band members, that was not possible," Greenberg said.
This year Microsoft is once more breaking from the norm, hosting not one major pre-E3 event, but two. On June 13, the Sunday before E3 starts, Microsoft launches what they're calling the world premier of their motion detecting Project Natal with a performance by avant-garde circus group Cirque du Soleil.
Greenberg is quick to point out that Sunday's event is not meant to be a media briefing. That, he says, will happen the following morning.
"For us it was very clear from the start that there was no one better than the creative visionaries at Cirque du Soleil to fully bring to life the magic of 'Project Natal' for Xbox 360 in a way that could capture the world's attention and imagination," he said. "While I cannot share any more details about this event at this time, trust that it will be unlike anything you have ever seen, a one of a kind memorable event that will entertain people of all ages."
And this year, the audience will be much larger for Microsoft as well.
Spike TV will broadcast Microsoft's Monday morning press briefing live and commercial-free. The next day MTV, Nickelodeon, MTVU, MTV Hits and Logo will air a 30 minute special to unveil Project Natal to the world, by showcasing the Cirque du Soleil event, Greenberg said.
"Project Natal is one of the most exciting new product launches of the year, and MTV Networks is the perfect partner to bring this one-of-a-kind event from Xbox and Cirque du Soleil to its viewers and passionate gamers all across the country," said Rich Eigendorff, chief operating officer, MTV Networks.
Microsoft certainly isn't the first company to bring big names to the stage to help show off their upcoming game line up. Past E3s have seen James Cameron, Chewbacca, snowboarder Shaun White, even Michael Jackson, talk about games for Microsoft, Sony and Nintendo.
But Microsoft does seem to be the first to be de-emphasizing the numbers behind their games to focus instead on the entertainment.
Video games still have no standout awards show or showcase. There is no Cannes, Aspen or Grammys for gaming, so E3 needs to become that moment. But to deliver it needs the sort of sizzle that captures not just the attention of the media, but also the masses.
Greenberg thinks that's what Microsoft is doing, not just for their games, but the industry.
"We hope that at the end of the day," he said, "these two events help people see our brand in a new light and understand that our form of entertainment is totally unique and has possibilities to entertain everyone no matter their age, interests or experience."
Well Played is a weekly news and opinion column about the big stories of the week in the gaming industry and its bigger impact on things to come. Feel free to join in the discussion.