2K Sports is offering a $1 million prize to the first player to throw a perfect game in MLB 2K10, laying down the bounty as a statement of confidence in the authenticity of their game's revamped pitching controls.
The million-dollar prize is believed to be the largest ever offered for this type of contest - a skill-based challenge, rather than a random drawing. 2K Sports isn't putting up the money believing its game is so tough that no one can meet the challenge. It fully expects someone to pitch a perfect game - retiring all 27 batters without a single one reaching base by any means - and cash in during the contest period from March 2 (the game's date of release) and May 2.
Essentially, the studio is devoting $1 million of its marketing budget to the claim that its pitching simulation is the most authentic and enjoyable.
"I would be shocked if someone doesn't get it," Chris Snyder, 2K Sports' director of marketing, told Kotaku. "It's very doable. It's been budgeted for. It's in an escrow account, and we're fully expecting to pay it."
There are plenty of YouTube videos showing perfect games thrown in MLB 2K9, but 2K10 will perform differently. In it, players select a pitch type with a face button and then execute the pitch with two gestures on the right stick. The setup is intended to to create more realistic variances in pitch quality than can be offered by pitch-meter gameplay, which players can quickly time for pinpoint accuracy.
G/O Media may get a commission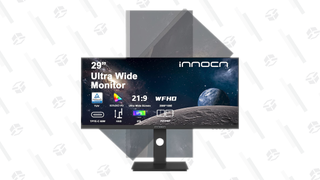 39% Off
Innocn 29" Ultrawide Computer Monitor
2K Sports has launched a page to showcase the challenge and spell out the fine print for claiming the prize. The challenge is good only on the PS3 and Xbox 360 versions of the game (this year will see a Wii version; it is ineligible in this case) and entrants must record the entirety of their game, either with a camera aimed at the TV or monitor, or recorded digitally. The submissions must be made on a DVD. 2K Sports has partnered with Twin Galaxies, the worldwide sanctioning authority for video game high scores and records, to certify the legitimacy of submissions.
"We're using the analogy around here that there are 20 padlocks on the door," Snyder said of the certification process. "Now, there might be some people out there who think they can still figure out a way to get around it. But the winner really is going to have to pitch this perfect game."
The prize offering is newsworthy in another sense. In December, Strauss Zelnick, the CEO of 2K Sports parent Take-Two Interactive, called out the company's Major League Baseball properties as underperforming to expectations. That, combined with a poor showing for MLB 2K9, led many pundits to speculate that the company would place its baseball products on life support. 2K Sports was probably going to spend a lot of money marketing this game, but setting aside $1 million for a contest is a different statement altogether.
"This is about us being really proud of our revamped pitching mechanic," Snyder said, "We think we've captured the essence of what it feels like to be on the mound. We're proud of the fact this is skill based. You're going to have to be good at the game of baseball to win this million dollars."
Anecdotally speaking, Snyder himself has come close.
"There's a possibility it doesn't happen, but I do think it will happen," he said. "I'm not the greatest guy at this game, but even I went eight perfect innings with Johan Santana. I say it is gonna get done."
Snyder demurred when I asked which team he faced with the Mets' ace. He didn't want to seem to be disparaging a licensing constituent.
I've tossed a perfect game on the previous console generation and recorded a few no-hitters in MLB 2K6 and MLB 2K7, but those were different control sets. 2K Sports has done an internal analysis and thinks, given a large enough participation, someone's going to pull this off.
That said, there have only been 16 perfect games thrown in Major League Baseball since the beginning of the two-league modern era in 1901. More than 160,000 regular season games have been played in that span.