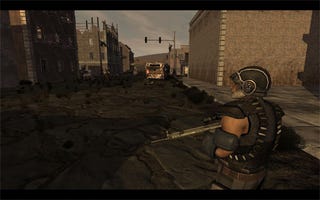 Fallen Earth's self-title post-apocalyptic MMO goes live today, with a retail version hitting store shelves by the end of the month for folks averse to downloading large amounts of data.
The beta testing is over, the Earth has been destroyed, and the monkeys are a great deal more intelligent now in Fallen Earth, the post-apocalyptic MMO that combines shooter style with RPG progression to create a persistent world title not quite like any other. The game is now available to purchase and play through Steam and other places like it, with a retail version recently added to the mix.
"The thoughtful development and diligence of our team is realized in a physical product, and that's exciting," said Jessica Orr, product manager for Fallen Earth. "We are pleased to add another avenue of purchase for our fans in conjunction with our existing digital sales."
Fallen Earth will be hitting store shelves on September 30th, or you can buy it right now at FallenEarth.com.