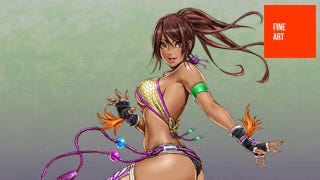 Fine Art
[Fine Art](https://kotaku.com/c/fine-art) is a celebration of the work of video game artists, showcasing the best of both their professional and personal portfolios. If you're in the business and have some art you'd like to share, [get in touch!](mailto:plunkett@kotaku.com)
Japanese artist Shunya Yamashita is to thank for these sketches of the cast of Tekken Tag Tournament 2, used as promotional art for the 2011 arcade fighter.
Interestingly, they're also forming the basis for Kotobukiya's fancy "Bishoujo" line of Tekken figures.
You can see the entire collection at the link below.
Tekken Tag 2 - New CGI Renders & Character Illustrations [Fighter's Generation, via Plastikitty]