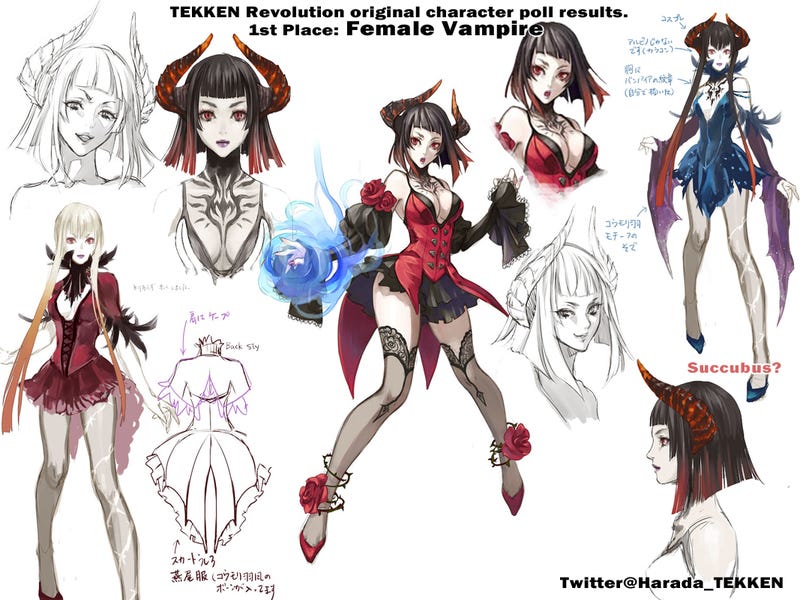 If you were hoping to see a giant, flopping, egg-spewing salmon as the next character in Tekken Revolution, I have bad news: Of 10 concepts they could have picked, Tekken fans picked perhaps the sanest and most predictable: Female Vampire.
Female Vampire, as yet unnamed (described on the official Tekken site as, "a young girl, long imprisoned by the Rochefort family") easily prevailed in a poll of the community and was announced at Comic-Con as the next character in Namco Bandai's free-to-play fighter. She's pictured above.
Vampire edged out "Sexy Female Tekken Force Character," and Shin Kamiya finished a respectable third. Zombie Bride was fourth, the fish finished fifth, and was followed by "Female Paul," then "Giant Praying Mantis" and GANMI-chan tied for seventh. Togo was ninth, "Average, run-of-the-mill Old Man" was last and with that kind of branding, are you really surprised? Look at the write-up he got.
"Female Vampire" is set to join the roster later this month when Tekken Revolution rolls out a big update, bringing more characters and costumes with it.
To contact the author of this post, write to owen@kotaku.com or find him on Twitter @owengood.