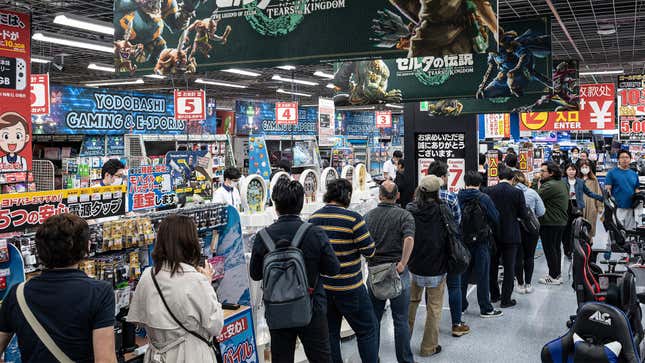 It is May 12, 2023, The Legend of Zelda: Tears of the Kingdom release day, and the temperature in New York City is creeping dangerously close to 90 degrees. In Midtown, bankers are sweating through their Brooks Brothers dress shirts and slacks, while tourists have busted out the cargo shorts. As I make my way out of the subway station near Rockefeller Center, I walk smack into a massive line of people. I sneer, assuming it's the wildly long Nintendo Store line from more than a block away that our managing editor Carolyn Petit saw earlier this morning (I hate the idea of waiting in lines), but nope, the Jonas Brothers are at Rough Trade.

Hours later, I head out to sit in the blazing sun for a bit to recharge my battery and notice the front of the Nintendo store looks conspicuously spacious. I hustle over, figuring I'll snag a copy for someone else at Kotaku who wants to play (I do not). But as soon as I approach the front entrance to the building, which is on the corner of Rockefeller Plaza and 48th street, I realize the line is snaking down the adjacent street. It sits directly in the sun, many of the people waiting are visibly sweating.
At random intervals, a huge gap of bodies indicates the presence of a driveway, a few security guys making sure it remains open for cars passing through. Several future Tears of the Kingdom owners are hunched over playing Nintendo Switch. One woman is sitting on the sidewalk in shorts, a New York City no-no.

"Oh, fuck this," I mumble before heading back to the dry, frigid air of the G/O Media offices. I may not be a big Zelda fan, but I don't think there's anything in the world that could make me wait hours on a line in Midtown Manhattan in the midst of a heatwave.

Zelda Tears of the Kingdom lines feel very nostalgic
Despite my beliefs, I'm fascinated to see people waiting in lines like this across the U.S. for the Breath of the Wild sequel. It feels sort of like a bygone era of gaming has returned—the last time I went to the midnight release of a game was November 2012 for Halo 4 at a Best Buy in Long Island, New York. I was 22 years old, and I was incredibly hyped.

The need to wait in long lines for midnight game releases has disappeared over the years, as more and more gamers turn to digital storefronts and downloads in order to get a new game the moment it releases, and the need for physical media wanes. (Though the side effects of a shift to entirely digital have been felt in the loss of access to so many movies—like sci-fi thriller Strange Days, which for some time was nearly impossible to watch without a physical DVD, only just becoming available to stream this year—and will undoubtedly soon affect games.) In 2012, you couldn't play Halo 4 in any way other than on the two discs that came in the Master Chief-adorned case, but that's simply not the case now.

What is it about Tears of the Kingdom that's brought lines back in such a big way? After all, the Nintendo eShop is open 24/7, you can download the game right now without having to stand up for hours at a time, shuffling every 10 or so minutes a few inches closer to the shining glass Nintendo store doors. You can play Tears of the Kingdom right this second, no long-time exposure to stagnant, exhaust-filled NYC air required. Why, people in line, are you not doing this?

For many, the promise of special swag beckons. The Nintendo store has special-edition pins (and other "surprise giveaways"), many of which will undoubtedly end up on eBay for thousands of dollars. Meanwhile, Target has a fanny pack that people are freaking out over. The allure of impossible-to-get swag will always attract gamers, a group known to be completionists and collectors through and through.

But perhaps, despite my decidedly Grinch-y attitude about waiting in long lines for a video game, people are happily queuing for Tears of the Kingdom for the vibes, y'all. They've waited six years for a sequel to Breath of the Wild; what's a few, sweaty hours more, especially in the company of your fellow die-hard fans?