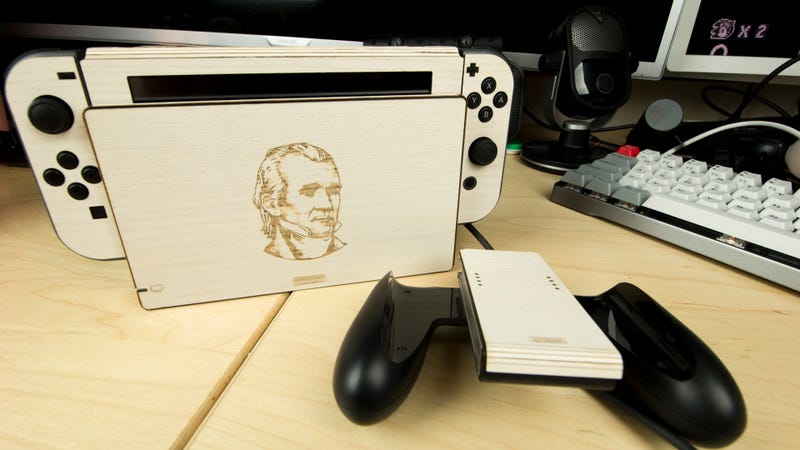 Back in June I made my PlayStation 4 look old and classy with a wooden cover by a company called Toast. It was fast and easy. Doing the same thing to my Nintendo Switch took a little more doing.
Oregon-based company Toast makes covers for phones, laptops, tablets and game consoles out of real wood. When they asked me if I'd like to give their PS4 Pro cover a try, I said, "Sure." When they asked if I wanted anything etched on it, I said, "I like squirrels. And Marvel's Squirrel Girl."
If you asked me how many graphics were in Deus Ex: Mankind Divided, my answer would be, "a lot." If I had to guess, I'd say, like, a hundred? Two hundred? It's a lot, is the point.
Marshall Clark made this N64 console last year. It's not actually made of wood, but through a careful application of paintwork (and some airbrushing), he got it looking pretty damn close.

In today's special later-than-normal, screw the top-right box edition of Speak Up on Kotaku, commenter Slagathorian shares some truly spectacular wooden creations that the editor is pretty sure he'd make a killing selling on Etsy.
Swedish artist Love Hultén triumphantly returns to our PC Case Mod of the Week feature with his latest creation, 4M, a computer that answers the question "Does this HAL 9000 unit come in walnut?"
Along with an official press release confirming the game's October 24th release in Europe, Ubisoft has announced the contents of the Far Cry 2 Collectors Edition, which takes the whole special CE box thing in a completely different direction. Rather than package it in a metal tin, as is all the rage these days, Ubi…