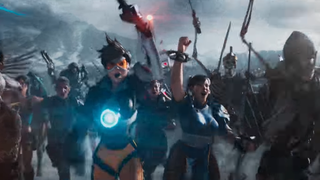 Ready Player One's new trailer is out and it features cameos by both Tracer and Chun-Li. The Overwatch and Street Fighter characters respectively are charging into a fight around the two minute mark. Another scene has what appears to be the Battle Toads. No doubt there are more references in there as well.
To recap, Overwatch's Tracer is gay. Until now that's been a fact contained to offscreen fiction, but the latest update to the PTR (Public Test Region) has dropped in a new voice line that references Tracer's girlfriend Emily within the game itself.

Recently released Overwatch comic Uprising showed off more of the heroes' pasts. A juicy lore revelation and slick character design for Genji has captured fan's imaginations, inspiring theories and lots of amazing art.