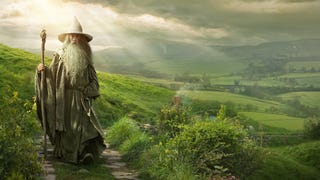 It is often said that Tolkien had only finished 1/3 of his life's work before he died and looking through all his books and notes shows much truth to that. Virtually nothing was written about what happened in the east of Middle Earth during the events of Tolkien's work, though from what we do know, it indicates…
Confused why Middle-Earth: Shadow of Mordor left "Lord of the Rings" out of its name? Well, lead designer Bob Roberts just explained to Eurogamer that the omission was a deliberate choice to make sure the game was seen as "clearly its own thing" by keeping it "separate" from established LOTR franchises. Mystery solved!
Artist Adam Rufino created a Middle-Earth-styled version of Johto, the setting of the Pokémon Gold, Silver and Crystal games. Really cool details, and it also reminds me of all those 2nd edition Dungeons & Dragons maps of the Forgotten Realms.
Rangers of Gondor! Middle-Earth: Shadow of Mordor is upon us. The time has come to stand up to Sauron's evil forces. But you know what they say about not simply walking into Mordor and so forth. So here are some useful tips to get your and Talion's quest started.