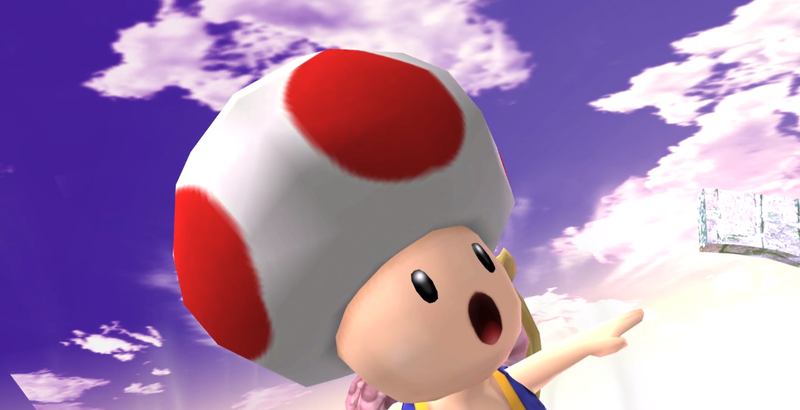 In case you didn't know Toad is at the center of a heated, ongoing debate. On one side are the people who think the mushroom on his head sits there like a hat. On the other side are people who think the mushroom is part of his head. Thanks to the latest Boundary Break video, we have some new evidence to consider.
Have you ever wondered what the deal is with Toad and Toadette? You know what I mean. As in: where do little baby Toads come from? Or are you too caught up in how cute the two of them are? Hey, I can't blame you if that's the case.
Happy Thanksgiving! Here's a picture of Mario chasing after a decapitated Toad head. (via Alison Rapp)
Toad was supposed to be Mario's friend, right? Then why doesn't he just give Mario what he needs instead of making him play his twisted games?
I swear I'm gonna murder Toad. I hate everything about him—his stupid smurfy hat, his dumb little smile, his goofy, perky body language. I despise his goddam Marge Simpson voice, and the way he yells "Rabo!" But most of all, I hate the way the little fucker keeps nailing me with blue shells in Mario Kart 7 and…
Photographer Jeff Junio gets up-close and personal with Nintendo characters in his Super Macro Bros. set, crafting this image of Toad and Luigi that's either delightful or very sinister, I can't tell. See more at the 8-Bit Cubist.
I guess the link to Sunday's National Equality March in Washington D.C. everything cool, right? Brental (Mr. Floss) says he'll be in attendance. You should be able to spot him, he'll be wearing a vest and (mushroom) cap. I hope.