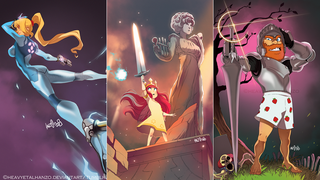 Browsing German artist HeavyMetalHanzo's gallery and realizing how much potential some video games and video game worlds have as Western cartoons or comics makes me sad. Most of these will probably never get such a treatment, and these amazing pieces remain the closest things.
It's hard to reboot a franchise without shooting yourself in the foot. So many times the product feels bloated, weird, and abandons the thing that made it great to begin with. Strider, however, feels just right.
Strider's reboot will release in North America on Feb. 18 for PS4 and PS3 (via PSN) and on Feb. 19 for PC (Steam), Xbox One and Xbox 360 (Xbox Live), Capcom said today. You may see our impressions of the game here.
Excited by the news of that new Strider game? Then soak up seven minutes of slash-happy gameplay in this video.
After a successful launch on the PlayStation Network, Square Enix delivers Strider-creator Koichi Yotsui's downloadable multiplayer side-scroller Moon Diver to Xbox Live Arcade on May 4.
Moon Diver, the four-player co-op hack -and-slash platformer from Strider creator Kouichi Yotsui hits the PlayStation Network on March 29. In the meantime, feel free to drool over the launch trailer.