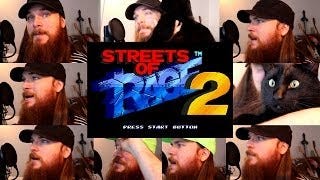 Streets Of Rage? More like Beats of Rage.The latest a cappella jam from Smooth McGroove takes us on a dance-party trip through a classic beat 'em up.
Streets of Rage has to be one of the all-time classic side-scrolling beat-em-ups, right? It had a sense of an atmosphere of menace that other games lacked. After a fan-made game was scuttled by Sega, the only activity on the old-school series has been mobile releases of the original games. So it's a real shame that…
Streets of Rage Remake, the exhaustive, fan-made homage to the classic Sega Genesis beat 'em up series, looks to have finally gotten the attention of Sega. The creators of that freely distributed Streets of Rage title have pulled the game after a request from Sega.
Porting a console classic to modern times is a no-brainer when it's an impulse buy where half the purchase decision is fueled by nostalgia. But is Sega's Streets of Rage worth it on the iPhone?
Open up. Time for your weekly dose of "let's port a game to the iPhone for a quick buck", this time featuring Sega, and a re-release of Streets of Rage.