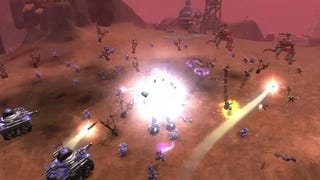 EA only has a week and a half left to convince you that the Spore Galactic Adventures add-on is worth your time and money. Let's see if this trailer helps!
Hot on the heels of this morning's announcement that the Robot Chicken team was providing downloadable adventures for Spore's Galactic Adventure's expansion comes this video, proving the fact. It features one hell of a Spore rendition of the titular chicken, along with a bonus appearance by Breckin "Garfield's Jon…
Spore: Galactic Adventures is introducing a lot of new stuff – planet editor, new segment of space exploration, etc. – but a nifty new thing we haven't seen a lot is the effects tool.
Its pretty much a whole new game added onto the already existing one, once the Spore: Galactic Adventures expansion is released this June. A whole new game starring a space captain you create yourself, capable of guiding your little sporelings as they explore strange new worlds, seek out new life and new…
One of the issues I had with the game was that it felt a bit too skeletal. Sure you could go from single cell to space exploration, but you couldn't really dig into any of those.