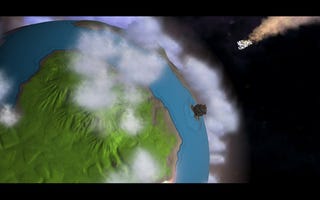 Spore lead designer Stone Librande is touring the nation's top game design college programs to talk about Designing Playfully, Electronic Arts announced today.
Librande plans to guide students through Spore Galactic Adventures' Adventure Creator and tech them how to make game concepts come to life.
"Maxis and EA are huge proponents of college game design programs and nurturing rising talent," said Lucy Bradshaw, VP and General Manager at Maxis. "The robust creative capabilities of the Adventure Creator in Spore Galactic Adventures, empowers future game developers with a different way to experiment with game design. I can't wait to see what the students create."
The tour kicked off late last week at the Georgia Institute of Technology. It will head to the University of Southern California later this week and then Carnegie Mellon University on May 1.
"The games industry continues to grow with the rise of online gaming, casual gaming and the exciting challenges of new markets," said Cindy Nicola, VP, Global Talent Acquisition. "EA is passionate about attracting and hiring the brightest graduates as they are our next generation of leaders. Our university partnerships and the talent they produce are key components of our overall talent strategy and we are deeply committed to continuing to hire interns and new graduates across EA."