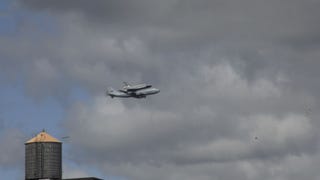 Just like it did over the skies of Washington, D.C. last week, the Space Shuttle made a low-altitude fly-by over the New York City Area this morning. Everybody here at Gawker HQ scrambled to the roof and waited for a few chilly minutes for Enterprise to come into our field of vision. Kotaku's own Chris Person was…
Many of us watched as the space shuttle Atlantis rocketed into space earlier this month, marking the last time a space shuttle will ever leave the Earth. Early this morning Atlantis came home.
Now that the final mission of NASA's space shuttle program is underway, we thought we'd take a look at some of the games influenced by the primitive spacecraft over the years.