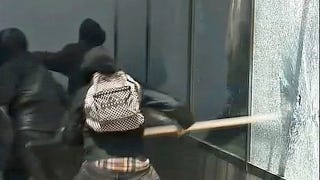 Protesters around the world are commemorating today's May Day with rallies in support of workers and against the economic and political powers that be. Much of this has been peaceful or at least standard Occupy-style protest-and-arrest, but in Seattle, in the same downtown area where tens of thousands of gamers gather…
In early August, as riots raged through north London, the Sony Enfield distribution center burned. Three million CDs and tens of thousand DVDs were lost in the fire. At the time, it was said looters made off with game consoles.
What has spurned hundreds to take to the streets of London to riot, burn and loot? According to the London Evening Standard newspaper, the city's continuing—and spreading—riots have their roots in Rockstar Games' Grand Theft Auto.
Last week the universal community of EVE Online exploded into rage over the release of high-priced virtual goods and a leaked internal memo that suggested developer CCP planned to monetize the hell out of everything they could put a price tag on in the popular space MMO. Thanks to a brilliant plan that involved…