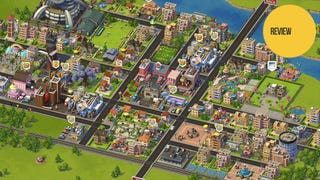 Facebook has been very good to the city-building genre. Every day millions of people wake up, log in and click away the day placing buildings, upgrading facilities and incessantly bugging their friends for help in titles like Zynga's CityVille or Game Insight's My Country. Now the legendary franchise that inspired…
I'm not much for Facebook games; I've played FarmVille a bit, but it's never quite gotten its hooks into me. Part of the reason for is that most of my friends don't play either, and so I've never felt the social pressure that contributes to the game's addictiveness. You know: "Dang, David's barn is so sweet. I wish I…
SimCity is a series beloved by millions, and one that's sadly been neglected of late while the Sims franchise went supernova. Now, according to MCV, it's coming back.
When EA bought casual games developer Playfish, people thought it would mean EA games based on fluffy animals. Nope. Turns out the "well-known brand" the studio has been working on is a Facebook version of football series FIFA.
And you thought you spent a lot of money on Pet Society. EA just spent $300 million on leading social network game creator Playfish, the team behind Pet Society, Restaurant City, and Country Story.