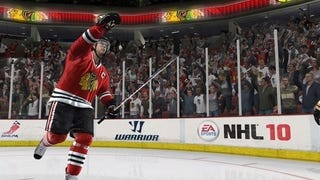 Who knows what Patrick Kane was paid to appear on the NHL 10 cover, but it was probably more than 20 cents. So it's hard to fathom why a 20-year-old zillionaire athlete would deck a cabbie over two dimes.
Hockey is another one of those sports that I feel a strong pull towards but have never experienced outside of video games, so if EA isn't delivering an extremely realistic sports simulation, chances are I would never know, so I have to rely on the hockey fans among our readers and possibly Owen for any real-life…
This. That's Twenty-year-old Chicago Blackhawks right wing Patrick Kane as coverboy — something announced last May. Kane told The Chicago Tribune:
Get ready to experience what it's really like to punch Canadians and Eastern Europeans in the face when NHL 10 ships this September. Electronic Arts has added first-person view brawling to the professional hockey sim.