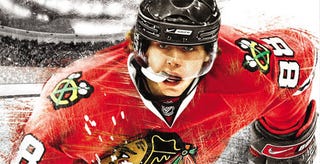 EA Sports is getting a very early start on calling the 2010 NHL championships, pegging the Pittsburgh Penguins to repeat as Stanley Cup winners this season. That means bad news for NHL 10 cover boy Patrick Kane.
EA's full simulation of the season apparently ended with the Pens winning 4 games to 2 over the Chicago Blackhawks, but don't take those sim results too seriously. EA Sports' NHL 09 called the Boston Bruins to take home the cup this year, defeating the Blackhawks in the finals in six games. The real contest was between Pittsburgh and Detroit, showing just how accurate these things are.
Hey, it's the future. EA can only do so much.