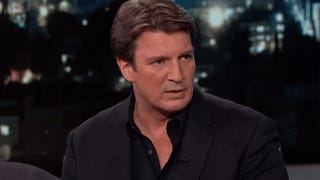 Once again, Comic-Con was a massive Thunderdome in which entertainment properties entered...and only some of them left. Studios and creators battled to create buzz for their projects, and some triumphed. Here are the biggest winners and losers of Comic-Con 2015.
Fan favorite Castle—and Firefly!—star Nathan Fillion was the guest of Conan O'Brien yesterday, and well, they've discussed things I didn't expect: DC and Marvel-themed nail polish.
In the Uncharted movie, Mark Wahlberg will be hero Nathan Drake. Fans, however, had a different actor in mind and even made awkward pleas for their choice.
The popular choice for the role of Uncharted's Nathan Drake keeps things classy on Twitter, weighing in on the unexpected casting of Mark Wahlberg as the charismatic, half-tucked treasure hunter in the big screen adaptation.