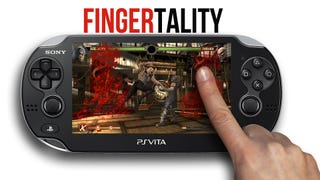 It has occasionally felt like a dirty secret that Mortal Kombat 9 was one of my favorite games of last year. But there it is. It hit just the right blend of punchy violence, imaginative special moves and accessibility, and it got me invested in the (silly) Mortal Kombat universe and its (ridiculous) characters all…
Toys 'R' Us has let slip that Wednesday is when Mortal Kombat will let you unlock all that DLC on the disc, for a fee of course.
Mortal Kombat co-creator Ed Boon says that his studio's newest fighting game is being built with better online balancing in mind, letting the developer finesse aspects of the combat after it ship—without the need for software patches.
Mortal Kombat, This Is Vegas and the Midway trademark, as of today, are owned by Warner Bros., with the media conglomerate having completed the purchase of "substantially all of the assets" of the Chicago headquartered company.