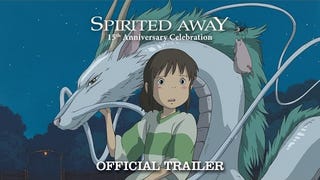 Over 400 U.S. theaters will screen Spirited Away to celebrate the film's 15th anniversary from December 4th to 5th. After the screenings, the short comedy Ghiblies: Episode 2 will air.
There's been a lot of talk in recent weeks about the fate of anime production house Studio Ghibli (which, as far as we know, is not dead yet). While its future has yet to be decided, all the fuss has given everyone a great opportunity to reflect on all the movies they made and why they matter to a lot of people.
Fresh from recreating the boiler room scene from Spirited Away for the Oculus Rift, game designer Nick Pittom tackles an even more magical scene from director Hayao Miyazaki's classic work — the bus stop sequence from My Neighbor Totoro. This is what I'd buy an Oculus Rift for.
Last year's news that Studio Ghibli mastermind and all around amazing person Hayao Miyazaki was retiring hit us all pretty hard here at Kotaku. If you're like us—i.e., still grieving in between bouts of playing Ni No Kuni—then I suggest you feast your eyes on these charming pixellated recreations of iconic moments…
Hayao Miyazaki isn't just an animator, a filmmaker, or a director. He's a cultural institution. Japanese kids grow up on his films. They are part of the country's zeitgeist. Meeting Miyazaki must be quite an experience, even when you are the biggest game developer in Japan. Make that especially when you are a famed…