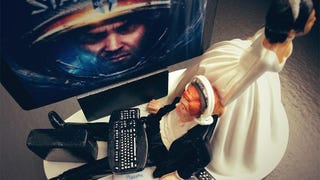 Kim Rom, from periperal company SteelSeries, is actually going to use this on top of the cake at his wedding. Bravo.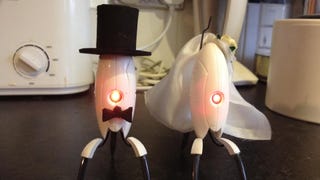 Reddit user Pheadlessg is to be married on Saturday. His fiancée allowed him one video game-themed gesture at the wedding reception, so he chose to dress these Portal turret figures from ThinkGeek in a bridal veil, hat and bow-tie and use them as cake toppers. Assuming they actually intend to serve one ...
Offbeat Bride brings us the story of Anli and Laura — two Aussie gamer chicks who got hitched September 5th in a Portal- and Revolutionary Girl Utena-themed wedding.
A couple years back, Totilo got himself hitched. Well done, Stephen! To help commemorate his two loves - his missus and video games - he added some gaming touches to his wedding. This weekend, however, I am getting married.
There seems to be no end to the ways gamers propose to their brides. A North Carolina man successfully popped the Q with using a hacked Ms. Pac-Man ROM and a modded cocktail table cabinet.
Newlyweds Frank and Paige Hackett are gamers, he on his PS3 and SNES (yep), she on her DS and PSP. They're also, in Frank's words, a "short Italian guy and much taller blonde girl." So it would follow that that thing, above, would be the cake at their wedding last weekend. Frank provided us the source pictures and…