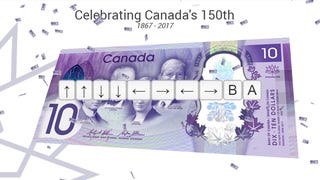 Canada has a new $10 note, and to celebrate, someone slipped the Konami code into the Bank of Canada's website. Give it a shot.

For some reason, dinosaurs wearing high-fashion hats slide across the screen if you enter the Konami Code on the British Vogue website. Hail Rule Britannia, I guess.
You'd think that the Konami Code would be a well-known part of pop culture these days, even if you're not a gamer. It's everywhere.
There are misdemeanors I have committed in this life, I'll admit it. For example, I recently got a ticket for jaywalking and it cost me $200. For jaywalking. I'm still very angry about this situation and am actively devising a plan to exact revenge on the LAPD, and guess what! Now you're all accomplices.
If you grew up in the 1980s and played video games, you know the Konami Code. It's very easy to remember. Kazuhisa Hashimoto, inventor of the Konami Code, said there's a reason for that.
Tattoo spied at the Brighton Tattoo Convention in London last month. It references the lyrics of "Up, Up, Down, Down, Left, Right, Left, Right, B, A, Start" by the Ataris. Picture by Iris James, seen via Hawty McBloggy.
The list of NES case- and controller-mods we've seen covers just about everything imaginable, but Joe from the modder site Proto Dojo goes one better - making a USB drive unlockable by the Konami Code.
Any of you use Google Reader for your RSS needs? I do. Mostly because I can access it from any PC, and it's super-easy to use. Anyway, enough of the free advertising! Seems somebody at Google HQ is a fan of the ol' Konami code, because it's been found that if you open up your Google Reader and punch in the code on…