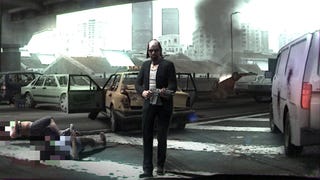 Partners in crime, Kane and Lynch, meet in Shanghai for one more score. An arms deal goes—how else?—horribly wrong, resulting in death, double-dealings and grisly torture. Kane & Lynch 2 made me sick, perhaps my favorite part.
Are you following Kotaku on Facebook? I hope so! We give away lots of neat things on Facebook. Things like early access to video games and cool swag. And besides getting a chance to win neat prizes, it also makes you instantly super cool and lets you pass around the best of Kotaku's stories. ZU-PEAR COOOOLE!!!
Jeff Gerstmann, longtime game reviewer and one-time Kotaku podcast guest, is widely seen to have been fired from gaming site GameSpot in 2007 due to his negative review of Kane & Lynch. That game's developers consider the episode "sad."