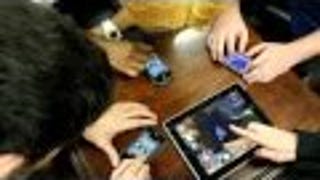 AT&T is offering upgrades to existing customers for $199 or $299 for the 16GB and 32GB versions respectively. The iPhone 4 is due out June 24. Preorders start June 15.
As we've warned you about, one day soon, there will be games that will only run on the iPhone 3GS, which is bad news for the 40 million people in possession of an iPhone, iPhone 3G or iPod Touch (2nd gen).
In Seek 'n Spell you use the iPhone 3G's built in GPS to run around the real world gathering letters that you can use to score points with big words you spell out.
Here's a quick look at the load times of the iPhone 3G versus the iPhone 3GS.
Ngmoco say they have no plans to start releasing iPhone 3GS exclusives. That's great. But Ngmoco do not speak for every iPhone developer, and one day, there will be iPhone 3GS exclusives.
Leading iPhone game publisher Ngmoco has no plans to release exclusive games for the newly announced iPhone 3GS, instead offering a more creative way to take advantage of the new model's increased graphical power.