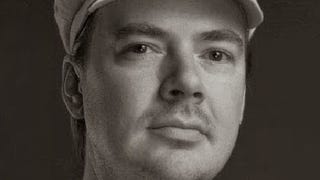 Justin Carmical, a YouTube personality who, under the name "JewWario," posted instructional videos on importing and playing Japanese video games on western consoles, died on Thursday. Carmical's wife said on Facebook that he took his own life; he was 42.
Japanese Resident Evil fans received a very posh box set for the PlayStation 3 earlier this month, stuffing 15 years' worth of zombie horror history—across five core Resident Evil games—in very slick packaging. See its horrors unboxed in the video above, for getting your hands on it might be a challenge.
Want to get your hands on the Final Fantasy VII: Advent Children Complete branded PlayStation 3? That fancy decoration is going to cost you if you plan on importing. So... how much?
If you really want to play Mortal Kombat vs. DC Universe but can't, in good conscience, do so without being able to shoot people in the face with the Joker, you're going to have to go Euro. The North American T-rated version of MK vs. DCU has been toned down to remove on-screen bullets to the head, but the region-free…
Then get ready to shake an extra Benjamin out of your wallet, as pre-orders for the Japanese release of the Nintendo DSi currently carry an "import tax" of about one hundred U.S. dollars. Regularly priced at 18,900 yen (a hair over $200 USD) in its home country of Japan, the DSi asking price from reputable import…
The source for all things video game related in Japan, Famtisu, can be yours to enjoy on a weekly basis. National Console Support began offering year long subscriptions to the Japanese language mag a few weeks ago in North America, for not outlandish prices. Your cheapest option is a bit over $9 an issue.