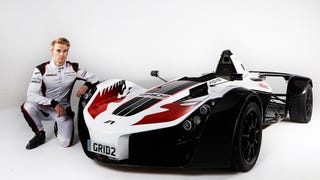 We've reported about the $190,000 worth Mono Edition for Grid 2, where the added bonus was not just some fancy cosmetic DLC, but a high-performance car. And although the game came out in May, guess what, no one bought this super-special edition yet.
Sim racing games are fun for few, but the community at large finds them boring. Arcade racing games are fun, but they're a bit too fake. So what if there was a game that combined the two? That's what GRID 2 wants to do. It's coming out next week, and the developers are here now to answer all your questions. Fire away!
We've already had some huge sales today in our morning Moneysaver PSA, and now we're bringing you some great pre-order discounts on highly-anticipated releases. Dig in.
And now, courtesy of a recently released trailer, have a small glimpse of Grid 2's "Redefined" multiplayer gameplay. Codemasters' arcade racer is coming out on May 28, with Europe getting it three days later, on May 31.
Everything is social these days. If you don't tweet and update your Facebook status every 40 minutes, you are an outcast and a pariah. If you don't Instagram your meals, your friends will pretend not to know you. And if you don't develop a social gaming experience, nobody will buy your latest game. And that's why Grid…