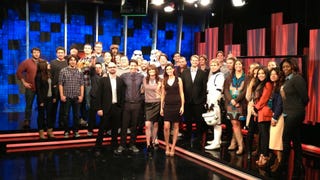 Via Blair Herter, here's the cast and crew of G4's X-Play saying goodbye as they shoot their last episode.
Join Michael Winslow—the noise-making star from Police Academy—on a cursory run through The History of Videogame SFX. Indeed the video is far from exhaustive, going from the blips of Pong (1972) to those of Portal (2007) without much in between: just a few other arcade legends and shooters. All sounds like a bunch of…
This ad for Gunnar's Retweet to Win-This Giveaway has me wondering if Gunnar's gaming eyewear comes in an opaque variant. I'd rather not see anything anymore. That Sessler is a far braver man than I.
Click to view In the latest edition of Sessler's Soupbox Soapbox, Adam addresses a problem that I've been noticing more and more myself lately, PC recommended specs that still won't allow you to max out your settings. Required specs are supposed to where you need to play the game with the bells and whistles turned…
Weren't those G-Phoria awards exciting last night? I was on the edge of my seat the entire time! Okay, I was at Walmart buying cat litter, but I did brush precariously close to some seats in the office furniture section. So what did I miss? Nintendo getting shut out of every award except best racing game for Mario…