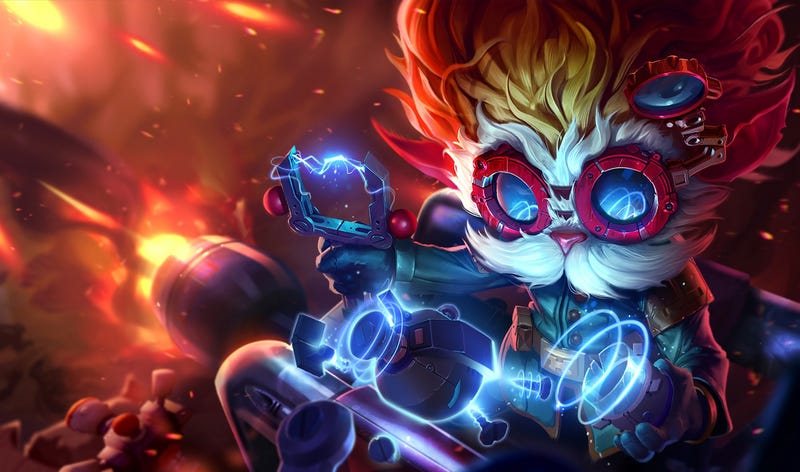 For a long time, League of Legends has had a consistent metagame. But the competitive environment and the individual and team strategies that result have recently changed at a rapid pace, leading to earlier fights, faster games, and a wild shift in the way players try to out-pick and out-play each other.

Lee "Faker" Sang-hyeok is recuperating from his heartbreaking loss at this year's world championships by crushing lesser opponents. After tepidly accepting the 2017 Game Award for Best Esports Player, he faced off against poor Álvaro "VVvert" Miguel Martins in a one-on-one League of Legends All-Star match.
The most memorable image from this weekend's League of Legends world championships wasn't of the winner's podium, the trophy, the stadium, or even the freaking dragon in the arena. It was of Lee "Faker" Sang-hyeok, a godlike figure in League of Legends, brought to tears after a crushing 3-0 loss.

Last night was the final clash of the 2017 League of Legends World Championships, a climactic rematch between Samsung Galaxy and SKT T1. Before the games started, Riot Games put on a massive opening ceremony including a giant trophy, a live performance of Worlds theme "Legends Never Die," and a freaking dragon.
This weekend marks the final week of playoffs for every region in the League Championship Series, and in South Korea, a classic rivalry played out in grandiose fashion. KT Rolster and SK Telecom T1 have been locked in a heated rivalry for years—their parent companies even feuded prior to League's competitive…
Riot Games has the right to issue Digital Millennium Copyright Act takedown notices for any League of Legends footage that appears without their permission online. But thus far, Riot's been relatively hesitant to do so. This week, one YouTuber in particular has seen some League of Legends videos go up on the chopping…
If you have even a cursory awareness of esports, you've almost certainly heard of Lee Sang-hyeok, aka Faker. Blending sublime skill and unpredictability, he's perhaps the best League of Legends player on earth, and definitely among the most exciting. Today, he finally started streaming on Twitch, quickly shattering…
Today's League of Legends World Championship quarterfinals games are just getting started. It's Korean powerhouse SKT 1 playing against Taiwanese team ahq e-Sports club. SKT 1 has even brought out its star player Faker for this one. My main question is: does ahq stand a chance? Watch Worlds on YouTube or Twitch.
The Korean eSports star Lee "Faker" Sang-hyeok is so good at League of Legends that fans have taken to calling him "God." The honorific makes a lot of sense, given how wrathful the pro player just showed himself to be.
If you're a popular League of Legends eSports player, who actually owns the streams of your matches? That's a complicated question, but in the case of ultra-popular pro Sanghyuk "Faker" Lee, the answer seems clear cut. Another streamer, however, found a loophole that's thrown it all into question. And controversy.