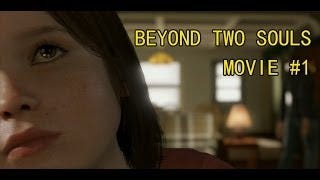 The Ellen Page-starring movie/game hybrid Beyond: Two Souls was often as much fun to watch as it was to play. And now, thanks to Gamebillstudio, you can go ahead and watch the whole thing, even if you don't own a PS3.
If there's one thing we can count on, it's that some people are interested in seeing naked character models—this is true regardless of the game. In a sense, you could say there was a metaphorical timer starting the second that David Cage's latest game, Beyond: Two Souls, which stars popular actress Ellen Page, was …
Sure, video games these days can simulate hyper-realistic alien murder, but what about the life of a young actress? Ellen Page Simulator 2014 hopes to do exactly that, letting you shape the Canadian starlet's personality, from what dolls she chooses to play with to working up the courage for her first kiss.
In Beyond: Two Souls, you'll do some things you rarely get to do in video games. You'll control a young, frightened girl as she hugs a stuffed animal and tries to fend off nightmares. You'll decide whether to accept beer at an awkward high-school party, and you'll try to pick music that'll impress a group of older,…
There's no getting around it. Even after a slight redesign, anyone who plays The Last Of Us will know that the character of Ellie has a lot in common with the actor Ellen Page, from her appearance to her voice.
Sony has just revealed that Beyond: Two Souls will be bringing its innumerable polygons to PS3 on October 8th. The announcement eschews any mention of PS4, but does have some extra flavor. Dafoe flavor. Yes, the rumor that Willem Dafoe is part of Quantic Dream's ambitious title is true, despite David Cage's denial of…
Actress Ellen Page is surely one of the biggest draws for video game auteur David Cage's Heavy Rain follow-up, Beyond: Two Souls. This video from IGN shows Page assuming the role of Jodie, the spiritually superpowered protagonist of Beyond: Two Souls, as well as a couple of her co-stars, who Eurogamer says are TV…