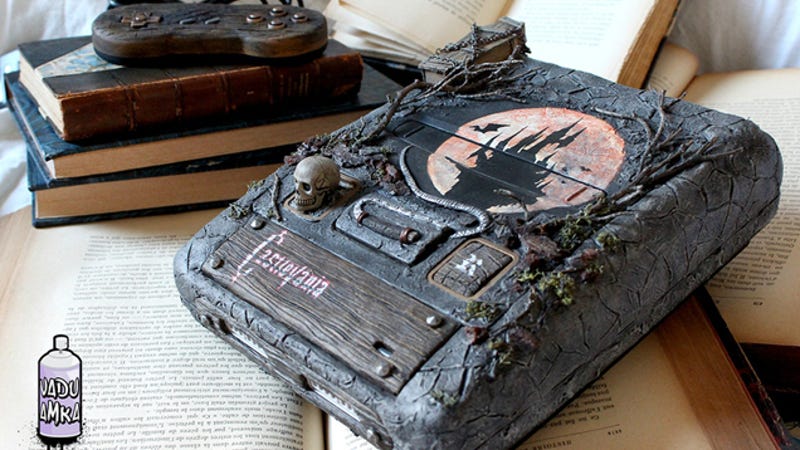 Artist Vadu Amka turned his PAL SNES console into the embodiment of darkness, just in time for October.
He's perhaps the most popular monster in all of horror. And yet it's been weirdly difficult to accurately portray the prince of darkness on screen — to make him as scary and evil and charismatic as he was in Bram Stoker's original novel. Here are 12 movies and TV series whose portrayal of Dracula that got it very, very…
Hey, did you know that Alucard is dual-wield spelled backwards? Ok, maybe not. But you can still get a look at how different the fan-favorite Son of Dracula plays from his dad in this trailer for Castlevania: Lords of Shadow 2's Revelations DLC.
The HD upgrade for Mirror of Fate—which originally came out for the 3DS— will be getting an upcoming Steam release later this month. The second game in Castlevania's Lords of Shadow offshoot precedes for the just released Lords of Shadow 2.
Lords of Shadow 2—the latest variation in Konami's long-running Castlevania series—let you play as Dracula. Its upcoming add-on will keeps it in the family, making the alpha vampire's albino spawn playable in the Revelations DLC.
America has had plenty of experience in taking awesome Japanese anime and making terrible adaptations of them. But for every Dragonball: Evolution, Japan has also borrowed one of our properties, and desecrated it in much the same fashion. Here are eight American casualties in this cross-pop culture war.
Over nearly three decades and dozens of games, the Castlevania series has let players battle through iconically fragmented gameworlds and crack the Belmont family's whips against Dracula. Now, with Lords of Shadow 2, the biggest, baddest vampire of all is yours to control. The shift from implacable archfiend to…
After centuries of the Belmont clan whipping him into submission, Dracula found himself looking forward to the slayer family's regular visits.