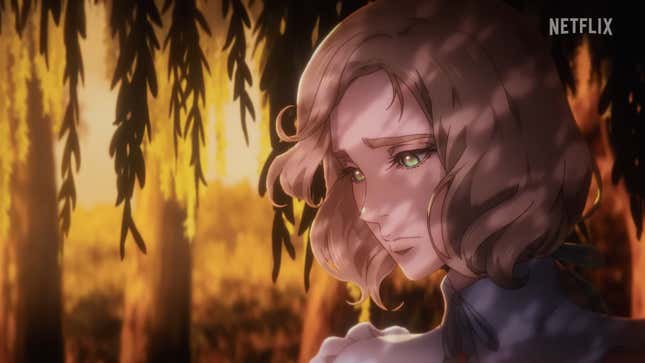 On Thursday, Netflix unveiled a brand-spanking-new trailer for its upcoming Castlevania spin-off series, Castlevania: Nocturne.
A Saucy Romance Game Where You Play As Dracula
Castlevania: Nocturne, which takes place long after the fourth season of Castlevania, follows Richter, the great-great-great-great-great-great-great-great-great-great-great-great-grandson of Trevor Belmont and Sypha Belnades. Fans of the Castlevania games will know Richter from multiple entries in the series, including the PC Engine classic Castlevania: Rondo of Blood. In typical Powerhouse Animation fashion, the trailer features snippets of deliciously good, lightning-fast action sequences stitched together with sprays of blood. You can check it out below.
The trailer opens with the gruesome murder of Richter's mother at the hands of a vampire, setting the young Belmont on a path of revenge against the vampire who vows to take his life as well. The rest of the teaser gives fans a peek at the war between vampires and vampire hunters while France is on the cusp of its revolution. If the trailer is any indication, the ongoing battle will culminate during a solar eclipse which may pull the tide of war in the creatures of the night's favor, unless Richter can stop them in time.
Read more: What We Loved (And Didn't Love) About The Castlevania Anime
We got our first peak at Castlevania: Nocturne last year during Netflix Geeked Week. Although the 42-second announcement trailer only showcased snapshots of Richter's blue Belmont cloak, the iconic Vampire Killer whip, and his smoldering glare, it attracted the attention of many vampire-starved eyes, as did the show's new teaser poster shared on Twitter teasing Thursday's official trailer.

Much like its brief-yet-hype-inducing teaser trailer, yesterday's teaser poster also primarily showcased Richter's back and trademark snatched Belmont waist. Series director Samuel Deats chimed in with a deadpan reaction to the level of enthusiasm received for the teaser image.
"Holy shit y'all're hungry," Deats wrote on Twitter. "Folks really like Richter's back."

Yes, the streets are indeed talking and the consensus is that Castlevania fans crave more Richter back shots. To be fair, the only thing folks had to tide themselves over in terms of Castlevania: Nocturne content up until this point was a GIF shared by Netflix Geeked of Maria Renard, a distant relative to Richter and fellow vampire hunter who is just as painfully attractive as he is. Like seriously, those Belmont genes are heaven-sent.
Castlevania: Nocturne will arrive on the streamer on September 28.