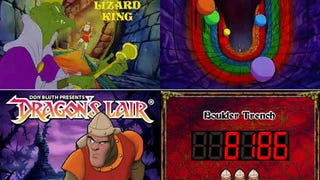 Digital Leisure is bringing Dirk the Daring to the DSiWare service next week, with the DSi becoming the umpteenth platform to receive a port of Don Bluth's classic laserdisc game Dragon's Lair.
What hasn't seen a release of Don Bluth's laserdisc classic Dragon's Lair? Well, you can't answer the iPhone, because Digital Leisure and EA Mobile have sent Dirk the Daring forth upon the iTunes App Store.
Classic laserdisc adventure Dragon's Lair is headed to Nintendo's DSiWare download service, according to a new rating from Germany's USK ratings board. Potentially good news for a game that was once bound for a regular Nintendo DS release.
Looks like publisher Majesco may be bringing 1990's laserdisc western shooter Mad Dog McCree to the Wii, according to a listing from online rental service GameFly. Why would we consider that a good thing?