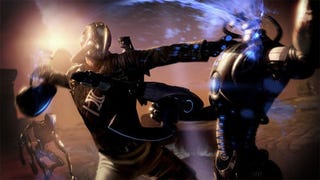 Dive deeper into the Dark Void next week with the Survivor Missions downloadable content, which pits players against increasing waves of hostile enemy forces, because increasing waves of docile enemy forces aren't that threatening.
Men (and bears) in tight bikini briefs invade the Nintendo Download this week, bringing Dark Void Zero, Starship Defense, The Secret of Shinobi, and more along for the wild ride.
Capcom's Dark Void won't just be appearing on the 360, PC and PS3; no, it'll also be appearing on...the Nintendo DSi.