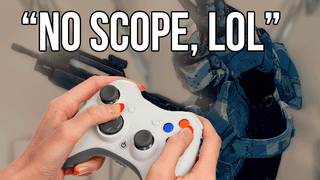 You press play. A homemade logo or two pop up—maybe a clan, or a made-up studio. You notice the name of the player—tons of X's, maybe a 420 reference, and the rest seems incomprehensible. That's when the top 40 song begins. Then, it happens: a man dies. Cause of death? Headshot, intentionally timed to connect when…
Having been crowned the Pokémon World Champion two years in a row, Ray Rizzo is the man to beat at this year's competition. One would think a player of his caliber would keep his secrets to himself, but he's ready to share them with the world.
Major League Gaming is the world's premier professional console league. As the team embarks on a new season, with a new game in Halo: Reach, we spoke to some of the top players, and the CEO of the league itself to get an insight into competitive gaming's exploding popularity, and what it takes to become the one of the…
No, not the Rylan Star League. Princeton and 25 other colleges have teams in the "Collegiate Star League." Friday, the Tigers took on Tsinghua U. of Beijing, and The New York Times covered the action.
The Sci Fi Channel has given producers Granada America and World Cyber Games the green light to produce a new competitive gaming television series, tentatively titled GameQuest. The 8 episode series will bring together 12 gamers, who will compete in a variety of elimination events including both video games and…