The International 2018 ends tomorrow. By day's end, over $25 million will be divided up among 18 teams from around the world with the lion's share, $11.1 million, going to first place. Whoever that turns out to be at this point, though, will be a team almost nobody saw coming. The tournament for Valve's action strategy game Dota 2 saw favorites crushed and underdogs rise up in the first day of matches, and the shocking upsets haven't stopped since.
The Weekend In Esports
The biggest events to pay attention to each weekend in competitive gaming.
Powerhouses like Russia's Virtus Pro, who dominated throughout the year's regular season, got smashed in the first round of the bracket stage by weaker teams. VP, who many thought of as obvious shoe-ins for a top-four finish, instead found themselves edged out of the competition after a series of loser's bracket slugfests. The final nail in the coffin came late yesterday at the hands of Evil Geniuses, the beloved North American squad who struggled endlessly in every other major event of the season only to shock everyone at The International with cheeky and commanding wins over top-tier opponents.

Here's just how unexpected this was: Fans of the game were able to submit their predictions for winners and losers prior to the start of The International. Earlier today, Valve announced that of the millions who entered, only one person still had an accurate bracket.
Dota 2 is an infinitely complex game that can still be enjoyed and appreciated thanks to the fact that, at bottom, it's basically just Diablo-style tug-of-war between two opposing teams of five. Each wants to destroy the other's base. They earn gold, new items, and upgrades to their attacks and magic spells for kill stuff on the battlefield. The teams occasionally fight each other over the course of a match, with brawls getting more explosive, dramatic, and consequential as time goes on. Eventually, one manages to overpower the other, and a crowd of tens of thousands erupts in deafening applause.
G/O Media may get a commission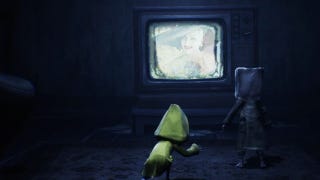 Horror Video Games to Play Leading Up to Halloween
Spooky and scary
Something video games have over their film counterparts when it comes to horror is the player's agency. Sure, watching the slasher claim their next victim can get a jumpscare out of you, but you know what's scarier? Knowing you had the power to stop it. Watching someone slowly open a door and enter a dark room is unnerving, but having to do it yourself will send shivers down your spine and paralyze you with fear.
It combines the strategy of something like StarCraft with the moment-to-moment excitement of two people beating the shit out of each other in Street Fighter, which is why I originally got hooked on watching the game competitively, and why I feel Dota 2's World Cup-like International remains one of the most fun gaming events of the year to behold. It helps, too, that competitive Dota 2 is currently in one of its most open and unpredictable states, thanks to a consistent series of patches that have made more characters and strategies viable as time has gone on.

My own hopes and dreams regarding the tournament are passionately but irrationally pegged to Evil Geniuses' continued success later today, when they fight for survival at 7 p.m. Eastern in the fifth round of the lower bracket for a chance to still make it to the grand finals, which take place on Saturday at 5 p.m. Only a few matches are left, and with every team having likely already put all their cards on the table strategy-wise, what happens in the next 24 hours could come down to instinct and fortunate moments of divine inspiration as much as anything else. It'll all be streaming live in the feed embedded below.
I know that Dota 2 still seems intimidating and impenetrable to the majority of people, and many who have given it a fair shake have simply found it's just not their cup of tea. Fortunately, there are still two other big tournaments going on this weekend that might be more your speed.
First off is the 2018 Pokemon World Championship, including matches in both the handheld and trading card games across a number of different age groups. It's fun to see a game so many people, myself included, simply play to relax pushed to the absolute limit in terms of underlying Pokemon stats and overall strategy. That event will be streaming online here until 8 p.m. Eastern tonight, all day tomorrow, and with the grand finals in each category beginning on Sunday at 10 a.m.
Second is the Overwatch League All-Star Weekend, which kicks off late Saturday at 7 p.m. Eastern with a Lucioball Showdown, followed by a number of other competitions in spin-off modes. The Overwatch League's first season will then get capped off on Sunday at 2 p.m. with the official All-Star matches. You can stream all of that stuff over on the official OWL Twitch channel.