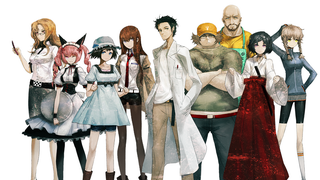 Steins;Gate, the popular video game, already has manga, anime, and novel adaptations. The game has had different spinoffs and side stories, including multiple games and a movie (Note to fans: the blu-ray version of the movie, coming in December, will have English subtitles). Now, Steins;Gate is getting a stage…
Okay, it is a mobile phone game, but these days, that's not really an excuse! Resident Evil: Zombie Buster has RE characters Leon S. Kennedy and Claire Redfield busting zombies. Check out Famitsu.com for more screens. [ファミ通]
Bungie "Aerospace" filed a trademark for a new phone-based game called "Crimson" last week. The trademark is described as a "Computer game software for use on mobile and cellular phones." and "Computer game software downloadable from a global computer network." [UPSTO.GOV]
According to this video of a Microsoft Live Labs presentation of Windows Phone 7 at Cannes Lions 2010, Windows Phone 7 will be coming this October. Listen yourself, the month slips out around the :16 mark. [Thanks, Gary!]
One of South Korean's most popular girl groups, Girls' Generation, is appearing in DSi ads for Nintendo of Korea. The ads are, to put it kindly, dull.
Ponzi scheme mastermind Bernie Madoff is in jail for pulling off the biggest financial swindle ever. Nothing says white collar crime like a cell phone game.
Japan's Finance Minister Shoichi Nakagawa showed up at the G7 meeting in Rome totally blotto earlier this month. This calls for a cell phone game.
How big are cell phones in Japan? If Final Fantasy IV The After is any indication, pretty damn big. An episode sequel to Final Fantasy IV, the cell phone title has been downloaded over 2 million times and is available for Japanese carrier DoCoMo's FOMA 903i and 703i series as well as for carrier AU's WIN BREW series.…