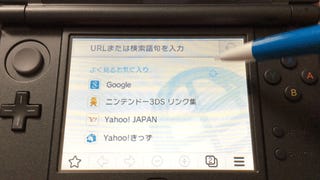 Some gamers who've already picked up Nintendo's new-and-improved 3DS have discovered a wonderfully squee-inducing secret buried inside the console. If you tap out the beginning notes of Mario's iconic theme music when in the browser menu, the interface will turn into the classic block-breaking arcade game Breakout.
Playing a game embedded inside another game isn't a new idea. But few games have done it as simply or as well as BRICK[bricksmash]SMASH. Alan Hazelden's Breakout homage multiplies the action so that you're playing 17 bouncing-ball-and-paddle games at once. The end result is hypnotic and brilliant.
Many of us have played some version of Breakout before—but probably not on this scale, and probably not to Daft Punk. The neat thing is, this game uses a Kinect so that you control the paddle by moving your body—and, more interestingly, snippets of the song are played depending on what you can hit with the ball.
Venerable arcade classic Breakout was a pretty simple game. You knock blocks away with a ball. Wizorb is kind of like Breakout, only it drops the game into a 16-bit fantasy landscape and adds in some adventuring. Oh, and it also features the work of Paul Robertson.
Atari has fired off some stern letters to iPhone games developers, citing infringement of their Breakout intellectual property. Bootant has received a takedown for Break Classic and BreakTouch 3D and SpiffyWare was given a talking to for SuperPong 2 - citing both Breakout and Pong infringements. Thing is, while the…